Meet the Dundee donkey who thinks he is the family dog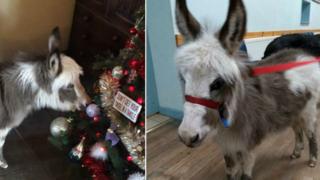 A little donkey has become a pet to a farming family who brought him indoors to save his life.
The 20in high miniature Mediterranean donkey was rejected by his mother when he was born on Balnuith Farm near Dundee in September.
Owner Alison Wiseman said she could not bear to send him out of her kitchen.
He can now look forward to a warm farmhouse Christmas complete with Santa sweaters.
Balnuith Farm sits at the foot of the Sidlaw Hills in Tealing.
John and Alison Wiseman breed rare animals there including alpacas, miniature donkeys and Falabella horses.
Three months ago their decision to save a struggling newborn changed their lives - at least for the foreseeable future.
Alison discovered a donkey foal trying to feed from its mother, but he was being hurt trying.
She said: "Serendipity (Dippy for short) was a first-time mum.
"She was completely freaked out by this little guy trying to go underneath and feed from her and she kept kicking him."
Alison's first instinct was to save the miniature animal.
She said she had no choice but to bring him inside.
"We had alpaca milk," Alison told the Kaye Adams programme.
"We took him in and kept him warm and made up a bottle of powdered milk to give him a good start. We bottle-fed him every two hours and kept him warm in the kitchen.
"We kept trying to take him to the barn and introduce him to his mum, but there was no relationship.
"It was really quite dangerous, she was going to hurt him."
By the time the vet arrived in the morning, the donkey's decision had been made.
Bond - named by Alison in honour of her favourite actor Sean Connery - was already firmly domesticated and would not leave his human carers.
Alison added: "For the first eight weeks he slept in the kitchen at the Aga.
"But he got bigger, and his mess got bigger, so we had to move him out to the conservatory where we built him a puppy pen."
The new family pet has now Bond-ed with the family dogs and believes he is one, following them around.
Alison said: "He is a real character. He spends a lot of time in the kitchen and thinks he's a dog.
"His best friend is Cilla Bark the Irish Wolfhound.
"He eats some of the dogs' Weetabix at breakfast, he likes the dogs' dry food, he even eats Bonio dog treats."
Now firmly established as one of the family, Bond last week enjoyed being the centre of attention with 60 guests at a Christmas jumper party on the farm.
And he will be indoors for Christmas Day, resplendent in his festive outfit.
Alison insisted Bond will live outside. Eventually.
She said: "Because we have put so much work into saving the little guy, I am scared to put him outside now.
"We had the really cold snap recently and I would never forgive myself if I put him in a barn overnight and he didn't survive.
"We are gradually trying to get him outside, and definitely by springtime."
But for this week, he has his hooves firmly under the table and will be spending Christmas Day in the kitchen, in the family and in his Christmas jumper.