Plumber guilty of causing Callander gas explosion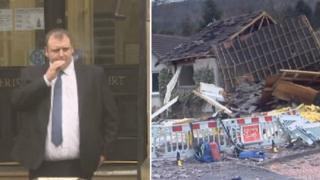 A plumber has been found guilty of causing a gas explosion that destroyed an elderly couple's home in Callander.
Craig Hall, 35, failed to install a boiler correctly at Robin and Marion Cunningham's home eight months before the explosion in March 2013.
The trial was told that the destruction of their home had "utterly overwhelmed" the elderly couple.
Hall was found guilty after a trial at Stirling Sheriff Court. He will be sentenced on 7 February.
The trial heard that Hall incorrectly fitted the boiler to the gas supply, leading to the explosion.
Mr and Mrs Cunningham, who are now 81 and 79, had to be freed by firefighters and nine other homes were evacuated.
Pouring gas
The trial was told Hall, of Tullibody, Clackmannanshire, failed to solder a vital 90 degree joint where it attached to the new equipment, leaving a gas pipe liable to come loose.
The fitting was held together by paste used to prepare the joint for connection.
It eventually separated, pouring gas at up to nine cubic metres an hour into the couple's utility room.
The court heard that at about 05:45 on 28 March 28, 2013, the flammable atmosphere ignited, possibly sparked by a light switch, or the compressor on a fridge-freezer.
Sheriff William Gilchrist took just under 40 minutes to find Hall guilty of installing the combination boiler "otherwise than in accordance with appropriate standards and in such a way as to prevent danger".
He said: "I'm satisfied beyond reasonable doubt that the failure to ensure that the gas supply pipe was adequately joined to the gas inlet pipe had the consequence of allowing gas to escape, thereby causing the explosion."
Hall told the trial that he double-checked the new system was "gas-tight" in the Cunninghams' home
But he said restricted space behind the fitting-plate of the boiler made it difficult to visually inspect his work.
Sheriff Gilchrist told the court that he was not considering jailing Hall, but may impose a fine or a community-based sentence.