Dundee postman stole birthday cards for two years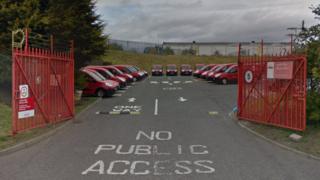 A postman who stole dozens of greetings cards and other items he thought may contain money has been given a community sentence.
Paul Heaney was caught when suspicious managers put two fake birthday cards into the system in the delivery office in Dundee where he worked.
Heaney, 38, pleaded guilty by letter to three charges of theft and one under the Postal Services Act 2000.
He was ordered to complete 200 hours of unpaid work.
Heaney was also placed on a restriction of liberty order confining him to his home from 19:00 to 07:00 for four months.
Dundee Sheriff Court was told 89 stolen items were discovered in Heaney's garden shed and additional stolen items were found in his house.
Depute fiscal Joanne Smith said postal staff launched an investigation in 2016 after receiving a tip-off.
'Utterly unacceptable'
The fiscal said: "Accordingly an investigating manager put through greetings cards test packets to be placed and sequenced by the accused.
"Investigations were conducted and despite an extensive search throughout the delivery office no trace could be found of the test postal packets.
"The accused was approached on his return to the delivery office and two of them were found within his delivery pouch."
Heaney initially said he had been stealing packets for about six weeks.
However, following the search of his home, he admitted stealing items over the course of two years.
The court was told the mail was forwarded to the correct addresses with a letter of explanation.
The thefts took place between August 2014 and October 2016 at the Dundee West Delivery Office in Baird Avenue.
Defence solicitor John Boyle said: "He has shown remorse and shame for his actions. He knows this is utterly unacceptable."
Sheriff Tom Hughes told Heaney: "This is a matter of the utmost seriousness and the court cannot sit back and watch this going on.
"People should be able to post things in confidence."