Boat trips suspended for Falkirk Wheel's annual 'MOT'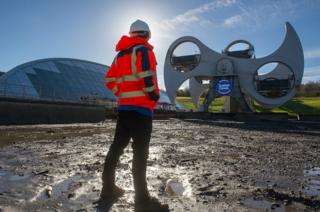 Boat trips on the Falkirk Wheel have been suspended for a month while annual inspections and maintenance are carried out.
The popular tourist attraction's basin and aqueduct have also been drained as part of the project to allow dredging along their length.
The Falkirk Wheel opened at the site of a former tar works in 2002 and attracts about 500,000 visitors per year.
Boat trips at the attraction will recommence on 7 March.
Richard Millar, director of infrastructure at Scottish Canals, said: "Throughout February, our team will be inspecting, repairing and replacing many of the thousands of individual components that make up this amazing fusion of art and engineering, from the tiny nuts and bolts of its electric motors to the gates of its gigantic gondolas."