International karate tournament's tourism boost for city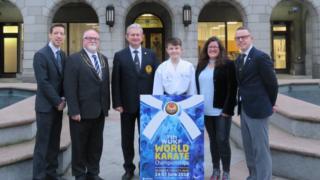 The organisers of a major international karate championship being held in Dundee say the event will provide a knock-on tourism boost for the city.
More than 4,000 athletes, supporters, coaches and officials will attend the 7th World Union of Karate Federations (WUKF) World Karate Championships for All Ages in June.
WUKF president Liviu Crisan is visiting Dundee to oversee arrangements.
He said many delegates are staying on for holidays following the event.
Dr Crisan, who has travelled from Romania for the three-day visit to the city, said: "The competition will be four days and we also have two days of training and testing of the referees and the coaches, so six days will be the minimum stay for all the teams.
"But I know of situations where the teams have already booked for two or three days after the championship.
"Dundee is a wonderful city. I believe that all the people who come here will have the same feeling as me."
'Sense of commitment'
Dundee and Angus Convention Bureau have estimated that the tournament could be worth over £9.7m to local businesses.
The four-day event is being held from 14 to 17 June at Dundee Ice Arena.
Dundee-based Kanzen Karate Scotland successfully bid in June 2016 to host this year's competition.
Its president Roy O'Kane said: "The response from across the city has been absolutely fantastic and there is a real sense of commitment to making the event a huge success.
"We are keen to showcase the city and all it has to offer and I think the athletes and teams will have a great experience."