Couples invited to watch animal heart dissection in Dundee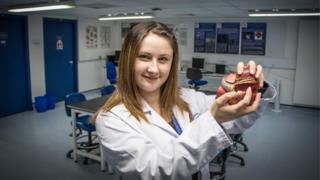 Couples looking for an alternative way to spend Valentine's Day are being offered the chance to watch an animal heart dissection.
Claire Cunningham, from Dundee University's Centre for Anatomy and Human Identification, will carry out the dissection at the Malmaison Hotel.
The event is part of the nationwide Anatomy Nights series, which teaches the public about the human body.
Proceeds from the event will go to the British Heart Foundation.
Ms Cunningham, who is a mortuary technician at the centre, said: "As we approach Valentine's Day, images of hearts are everywhere, but how much do people actually know about the real thing keeping us alive?
"We are inviting members of the public to come and see how blood enters the heart, understand how it beats and learn how this can all change.
"As our dissection will include a real animal heart, discretion is advised."