Sacked triple tragedy worker wins £30,000 compensation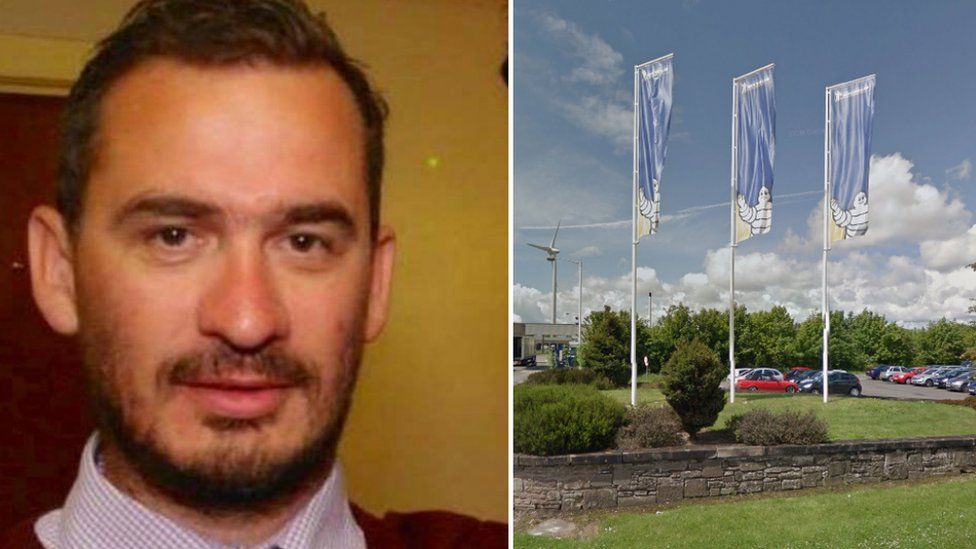 A Dundee factory worker who was sacked after being signed off with stress following a triple tragedy has been awarded almost £30,000 compensation.
A tribunal said Stan Reid's dismissal by Michelin was "egregiously unfair".
The 18-year-old son of a friend of Mr Reid died after falling from cliffs at Arbroath. Two other friends were killed at a wake for the teenager.
He was signed off for a week but bosses at the tyre factory saw a Facebook photo of Mr Reid at a gin festival.
Lawyers for the firm said "one would surmise they were fit enough to attend work" if managers discovered a supposedly sick employee was at a social event while off work.
Mr Reid's solicitor told a three-day employment tribunal in Dundee: "This is not a chancer pulling a sickie — this is far from it."
Mr Reid, 41, was awarded £29,485 in compensation after winning his claim for unfair dismissal.
The tribunal judge is also considering imposing a £5,000 fine on Michelin over their handling of the case.
Michelin's Dundee factory manager said that the company took the judge's findings "very seriously" and a review would be carried out into the case.
The tribunal heard that Mr Reid's partner, who is an events manager, suggested he accompany her to the gin festival in Glasgow, which she was attending for work, to "get away from it all."
Speaking after the judgement, Mr Reid said: "I was essentially bullied out of my job instead of being given the help I needed.
"They never took into account the murders or that I was still looking for wee Ralphie.
"They had tunnel vision and had already decided why I was in Glasgow.
"They made me feel worse rather than look after me."
Mr Reid was signed off after his best friend's son, Ralph Smith, vanished from cliffs in Arbroath.
His body was found a month later after an intensive search partly organised by Mr Reid.
At a vigil for the teenager a few days later, two of his friends, Julie McCash and David Sorrie, were stabbed to death by Robert Stratton. He was jailed for life last year over the double killing.
In a written judgement, judge Peter Wallington QC said: "None of those involved in the respondent's decision-taking process appears to have engaged seriously with the circumstances leading to the claimant's absence from work or his explanation for going to a gin festival, or for the Facebook postings.
"Indeed, his attempts to explain appear to have been used against him, unjustifiably, as reasons for finding that he lacked insight into the seriousness of his conduct and showed no remorse."
The report said that Mr Reid was subjected to "hostile questioning" from the beginning and labelled the managers' actions as "remarkably insensitive" and a "flagrant disregard" for fairness.
John Reid, factory manager at Michelin in Dundee, said: "Providing a supportive working environment is an absolute priority for Michelin, so we are obviously extremely disappointed and concerned that the tribunal found that not to be the case in this instance.
"We take the judge's findings very seriously, of course, and we will use them as the basis of a review of what happened in this particular case.
"We will also use them to inform a much wider examination of the relevant procedures we currently have in place."
Related Internet Links
The BBC is not responsible for the content of external sites.