NHS Tayside finance chief retires amid funding gap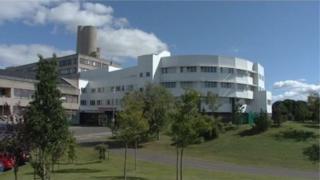 The finance director of NHS Tayside is to retire as it is revealed the health board's funding gap is widening.
The board received a £33m "brokerage" loan from the Scottish government last year and was due to receive a further £4m before 1 April.
The Scottish government was informed on Wednesday that NHS Tayside's finances were likely to deteriorate further.
It was also told the Tayside director of finance Lindsay Bedford has decided to retire and will not return.
The Public Audit and Post-Legislative Scrutiny Committee received a letter from Paul Gray, the chief executive of NHS Scotland.
The letter explained: "I have been informed that the financial outturn of NHS Tayside for 2017-18 is likely to deteriorate further, arising from information we identified about the flow of £5.3m of eHealth funds via NHS National Services Scotland and the way in which they have been recorded within NHS Tayside accounts.
"I also note that the Tayside Director of Finance has decided to retire and will not return to the organisation."
An independent review of NHS Tayside's accounts is expected to report within a fortnight.
In October last year, auditor general Caroline Gardner said the board had continued to experience "significant financial issues".
NHS Tayside delivered £45.5m in efficiency savings in 2016/17, nearly double the savings of the previous year.
However, the auditor general said that was still £1.3m below target.
'Actively addressing issues'
The main overspends last year were on workforce, prescribing costs, and clinical supplies.
NHS Tayside chief executive Lesley McLay said the board was "actively addressing" its issues.
Independent advisers were appointed in March 2017 to help NHS Tayside meet its financial challenges.
They reported that "the pace and scale of change needs to increase" if the board's transformation plan is to succeed.
Ms McLay told MSPs last December there was "no intention whatsoever" of cutting jobs.
The health board received £13.2m in Scottish government loan funding, known as brokerage, in 2016/17.
The auditor general's report said: "This brings the total brokerage received by the board over the last five years to £37.5m.
"Of this, £33.2m is still to be repaid but the Scottish government has suspended repayments and it's not yet been confirmed when they will resume."
A funding gap of £49.8m has been predicted for the current financial year.
The board plans to deliver savings of £45.8m, with the balance being provided by a further £4m in brokerage.
The report said: "The board recognises that its cost base remains too high and further significant savings are needed in future.
"It has identified that to be financially sustainable in the long term, it must save £205.8m over the next five years.
"This includes the suspended brokerage repayments.
"There is a risk that more financial support will be needed, and the 2017/18 savings also include £5m which have yet to be identified or are high risk."