Helicopter accident at Perth Airport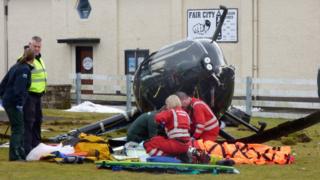 An engineer has been taken to hospital after a helicopter accident at Perth Airport.
A witness at the aerodrome said the aircraft was undergoing ground checks with its rotors turning when it crashed on its side.
The engineer was able to crawl from the wreckage and was treated at the scene by paramedics for a suspected broken leg after the incident at about 10:45.
The man was taken to Ninewells Hospital in Dundee.
A witness at the aerodrome said: "The engineer was doing ground checks. The helicopter was on the ground, it was not flying.
"It seems to have slewn into the soft grass and the engineer managed to crawl out."
Paramedics from Scotland's Charity Air Ambulance and the Scottish Ambulance Service, who were attending a meeting nearby, were on the scene within minutes.
Charity Air Ambulance paramedic Craig McDonald said: "We heard a very loud bang. We responded immediately to discover there was a helicopter on its side, ploughed into the grass.
"We were immediately able to attend the patient, assess and treat him for injures and very quickly, backed up by Scottish Ambulance Service paramedics who stabilised him and transported him to hospital.
"We believe the aircraft was on the ground when it fell over on its side, but clearly the rotors were running."
Police Scotland said there was no danger to the public and the airfield remained open.
The Scottish Fire and Rescue Service were later asked to attend and could be seen dousing the damaged aircraft with foam as a precaution.
The airfield, at New Scone a few miles north of Perth, is used for private and business flights.