Man showed indecent photo to female drivers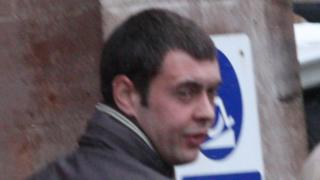 A man who drew alongside two female drivers before showing them an indecent image on a phone has been placed on the sex offenders register.
A court was told Richard Skedzielewski sounded his car horn to attract the attention of the women on the M80 near Stirling.
Skedzielewski, 30, admitted driving dangerously while failing to maintain proper control, and causing the women to look at an indecent image.
He will be sentenced on 17 May.
Prosecutor Ruaraidh Ferguson told Falkirk Sheriff Court: "On both occasions he engaged cars driven by females.
"He drove up alongside them, and while doing so he used one hand to display to them a hand-held device."
The court was told the photograph showed a man's genitalia.
Draw attention
One woman shown the image was aged 49 while the other, who was 26, had her mother in the car with her at the time.
Mr Ferguson said Skedzielewski, of Kilsyth, undertook one car and drove beside it one-handed, while using the other hand to repeatedly display the handheld device.
He then drove alongside the other woman's car to repeatedly show her the device, and moved between lanes in an attempt to stop her overtaking.
Mr Ferguson said: "He was trying to draw the driver's attention to the device he was displaying by peeping his horn.
"Both women reported the incidents to the police."
Sheriff Christopher Shead deferred sentence for reports and continued Skedzielewski's bail.