Grieving mum warns of teddy danger after daughter's death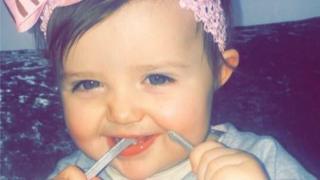 The mother of a toddler who suffocated under a teddy bear is warning other parents to remove toys from their children's beds.
Dexy Leigh Walsh found 18-month-old daughter Connie Rose lifeless last month when she went to wake her older daughter for school.
She had died while she slept, under a large cuddly toy her mother had placed to fill a gap at the side of her bed.
Now Dexy Leigh, 23, wants all parents to keep their children's beds safe.
She believed at 18 months, Connie Rose was old enough that such toys would not pose a danger.
She had a bed guard on one side, and had stuffed teddy bears down a small gap between her bed and a wall, to stop Connie Rose falling down.
Dexy Leigh now describes that as her "biggest regret in life".
It is believed a large teddy fell on Connie Rose as she slept.
She told the BBC Scotland news website: "I got up to get my oldest ready for school, and I went over to get Connie and she was under a big teddy.
"I couldn't wake her up and shouted on my partner.
"I put Connie on the floor and started CPR. Murray took over and he tried. My sister was on the phone to the ambulance people, explaining what to do.
"We were following instructions while the ambulance was on the way. Murray's mum arrived and took over and then the ambulance came.
"They asked everybody to leave the room and tried for two minutes as well then came to the bedroom door. I can't really remember what she said, I just heard 'I'm sorry'.
"I just ran back into the bedroom and grabbed her and cuddled her. They let me cosy her for a good half an hour and I kept hugging her, still hoping she would open her eyes, or grab me or something."
Dexy has set up a Facebook page warning parents about the dangers of toys on children's beds.
She hopes to continue the social media campaign and produce leaflets.
She said: "I just want people to realise that the thing you use for comfort for your baby can be dangerous. You would never think anything like that could happen.
"Even if you could empty the kids beds, even just while they are sleeping that would make a big difference.
"Hopefully it will stop this from happening to anybody else."
Dexy believes her campaign has already succeeded in educating some parents of the potential danger.
"When I see all these messages that people are moving things from kids' beds, it really means something to me and I am so thankful for them reading my messages."
Sleep safety advice
Most sleep safety advice is aimed at newborns up to the age of one.
Sudden Infant Death Syndrome charity The Lullaby Trust says there is evidence to suggest that babies are at higher risk of SIDS if they have their heads covered and some items added to a cot may increase the risk of head-covering.
It says unnecessary items in a baby's cot can also increase the risk of accidents.
The charity recommends babies are slept in cots or Moses baskets that are kept as clear as possible, specifically advising:
No pillows or duvets;
No cot bumpers;
No soft toys;
No loose bedding;
No products (such as wedges or straps) that will keep your baby in one sleeping position.
The charity says that while their advice is relevant for babies under 12 months, after this age it is down to parental choice, and that some parents continue to follow safer sleep guidance after 12 months.