'Being born with red hair made me a world champion'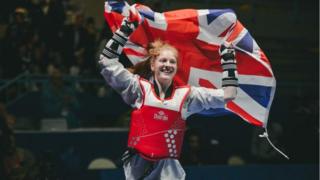 It's no secret people with red hair get more than their fair share of ribbing.
But when a Scottish dad took his daughter to a martial arts class, little did he know his flame-haired pride and joy would not only be equipped to fight off the bullies, but she would end up a world champion.
Jordyn Smith has just won gold at the Junior World Taekwondo Championships in Tunisia.
And now she has her sights set on the Olympics in Tokyo 2020.
Darryn Smith took his shy daughter to a local taekwondo class when she was four years old.
About to start school in Falkirk, he was concerned about Jordyn being teased at school.
He thought the class would build her confidence.
Jordyn, who is now 17, spoke to BBC Radio Scotland's Kaye Adams: "He took me along because he was worried I was going to get picked on in school because of my ginger hair.
"At first I was quite scared of the high kicks and the loud shouts, and I'd always ran out and hide behind my dad because I was nervous and very shy.
"One day before training my dad said: 'If you don't like it we won't come back - it's not for you'.
"But there must have been something in me that day, because since then I've never looked back."
Jordyn admits if she was born with any other hair colour, she might never have made it to the sport.
But there is no stopping her now.
She trains three days a week at the Great Britain National Taekwondo Academy in Manchester, with two days back home at school.
She communicates with teachers via a Google app and is about to sit four Scottish Highers and one National 5.
After her exams end in May she will train full-time in Manchester, aiming for Tokyo in 2020 and Paris in 2024.
Taekwondo has become a family affair.
Jordyn's dad started the sport shortly after she did, going through the gradings alongside her.
Mum Shona started with Jordyn's younger sister Teighan and all four have black belts.
Shona said: "Jordyn didn't like it straight away. We tried the dancing and other things and eventually we took her to the taekwondo and it gelled to the point her dad joined not long after.
"He graded alongside her and that was lovely to watch a dad and daughter doing something together.
"I fell pregnant and had another one and we started to do it together so the sport has been great for us all together. I do it for the training.
"But it has been difficult. We sacrifice a lot as a family.
"Jordyn sacrifices a lot more than we do but we try to help her have the life of a kid and an elite athlete by getting her to meet with friends after training."
Jordyn is now on track to be an Olympian of the future.
She said the sport has given her confidence: "I was a shy child and since I started I really built my confidence and I just like kicking people basically."