Get Back: rare Beatles Caird Hall photos return to Dundee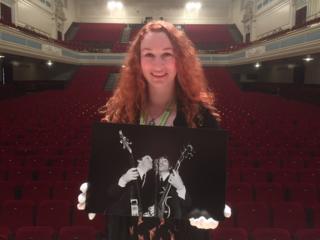 A set of photographs from the Beatles 1964 show at Dundee's Caird Hall has been purchased at auction by a museum in the city.
Leisure and Culture Dundee paid £6,600 for the 33 photographs and 38 negatives of the Fab Four's second and final appearance in Dundee.
The pictures will be displayed at Dundee's McManus Galleries this year.
The images show the group being interviewed before the concert, as well as shots from during the sell-out show.
The set also includes photos of screaming fans waiting for The Beatles to arrive at the venue.
The photographs were taken by Dundee-based professional photographer Winnie Forbes-Cochrane.
Leisure and Culture Dundee chairman Sinclair Aitken said Dundee had a "rich and diverse musical heritage."
He said: "Caird Hall and the concerts there are a huge part of that, so it's really pleasing to see these pictures of The Beatles come home.
These pictures are a fantastic acquisition for the McManus and will now be preserved in our collections for future generations to enjoy."