Lorry driver killed in crash 'was distracted by text message'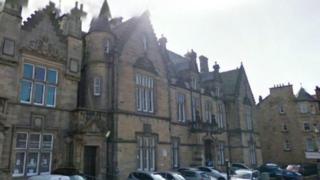 A lorry driver's death could have been avoided if he had not used his mobile phone at the wheel, a fatal accident inquiry has concluded.
Gary McEachran was killed when his tipper lorry left the road on the A81 near Balfron in March 2017.
The inquiry heard that the 42-year-old sent and received nine text messages prior to the crash.
Sheriff Wyllie Robertson said Mr McEachran had "probably" been distracted by an unread final message.
Mr McEachran, who was described as an "experienced and professional" driver, was transporting 18 tonnes of gravel from Callander at the time of the incident.
His lorry was overtaken by a car, at which point Mr McEachran's vehicle drifted into and along a grass verge for 70 metres.
The vehicle was steered back onto the carriageway before crossing it diagonally.
Mr McEachran then braked, before the lorry entered another verge, hitting a number of trees.
'Severe damage'
In his written determination, Sheriff Robertson said that a combination of steering, braking and hitting the trees had caused the lorry to topple over.
Sheriff Robertson said the cab then collided with mature hedgerow as it toppled, causing "severe damage" to the vehicle.
Mr McEachran was pronounced dead at the scene.
Sheriff Robertson said that the timings taken from the lorry's tachograph and Mr Eachran's phone showed that the last text message was received at the same time the lorry drifted onto the grass verge.
He said: "I can therefore conclude that he probably had been distracted by that message, possibly in combination with the car having overtaken him, and at the excessive speed he was then travelling, at 57mph when the maximum speed limit for his vehicle was only 40mph.
"Had Mr McEachran not been using his mobile telephone while driving, had not been driving at excessive speed and had been more aware of his surroundings and other traffic, the collision and his resultant death might have been avoided."