Scot born premature wins pro-American Football contract in US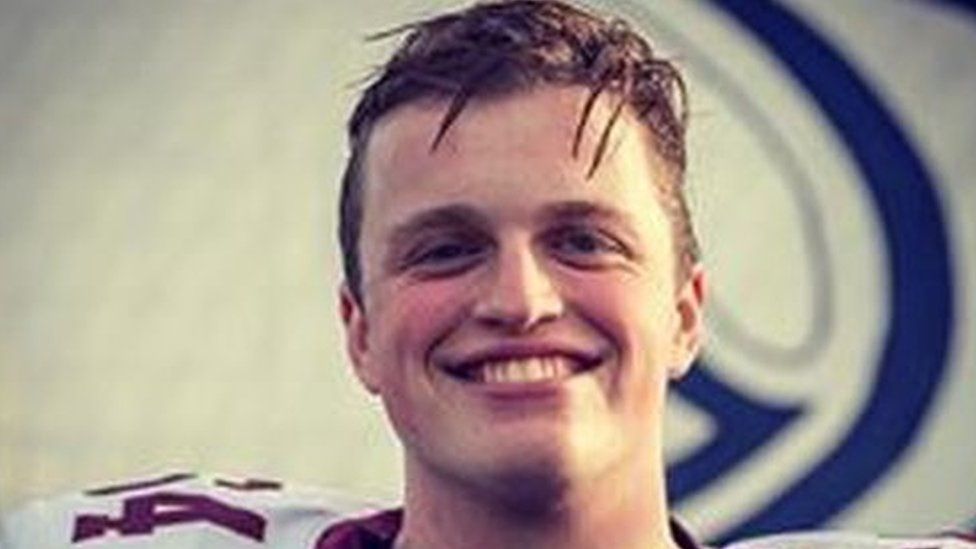 A Scot born six weeks premature with a debilitating condition has fulfilled a dream of becoming a professional American Football player.
Cameron Craig struggled as a child to catch or kick a ball, but at the age of 22 he has been offered a contract to play in the US.
He will start a training camp with the Las Vegas Cobras in January 2019.
He believes he is one of the first UK players to go pro in the US without going through the high school system.
Cameron knew nothing about the sport when he started his business degree at the University of Southampton four years ago.
He thought he was going to play rugby when the university gridiron team caught him at a freshers' fair.
Cameron told the BBC Scotland news website: "I didn't know anything about the sport. I was adamant I wanted to be playing rugby because that's what I played at school. Some guys in American Football equipment, helmets and stuff, they handed me a flyer and invited me to a taster session.
"As soon as I tried on the pads and helmet I fell in love with the sport."
Cameron played for the Southampton Stags and helped them to success last season when the team moved up to Division 1 in the BUCS league.
He also played with teams in Sheffield and London and was invited to a players' academy training camp with the NFL's Jacksonville Jaguars in London in 2016.
Not bad for a boy who, according to his dad Scott, "bumped into walls and broke things" as a child.
Cameron needed two blood transfusions before he was even born.
His blood was rhesus positive while his mum's was rhesus negative and she began to produce antibodies that attacked her baby's blood, slowing his heart rate.
Signs of fluid on Cameron's spine meant he could have been born with a severe disability.
He was delivered at 34 weeks, his weight dropping to 5lbs shortly after.
He was named after Prof Alan Cameron, the obstetrician who saved his life at Glasgow's Royal Hospital for Children.
At the age of seven, after teachers at his school, Dollar Academy, noticed some issues, Cameron was diagnosed with dyspraxia, a developmental disorder of the brain causing difficulties with coordination and movement.
After all that the last thing Cameron expected was the Las Vegas offer.
Last December, he began to get attention from teams from Germany about playing for them.
Then he was contacted by scouts from the Las Vegas arena football scene, who had watched footage of him playing.
After a Skype interview he was offered a contract.
"It basically came out of nowhere," said Cameron.
"Before this happened I was going to graduate and do sales or consultancy work.
"I was quite nervous about telling my family. But they were nothing but supportive."
"I don't want to have any regrets so I am going for it."
His Glasgow-born dad Scott, 53, said; "He was quite surprised that both his mother and told him to follow his dreams.
"When he was a baby just having him survive was the important thing.
"The next thing was worrying about all his ongoing issues and his dyspraxia. He couldn't catch things."
Even a kickabout in the park with his dad was a challenge.
But thanks to successful treatment, Cameron's professional contract could now lead to opportunities to play in the NFL (National Football League) or the CFL (Canadian Football League)
Cameron said: "I know of only three or four UK-born NFL players at the moment and I think every single one went to school in the States.
"It's unheard of to come from a school in the UK. I believe only one other person has done it. I think I'm the first Scottish person to do it."
Having just finished his final exams, Cameron is preparing to make the most of his opportunity in the States playing centre for the Cobras.
His dad thinks it won't be long until he touches down in Las Vegas: " I think mum and dad are committed to visiting Cameron at any opportunity."