Tribunal rules decapitated baby doctor can return to work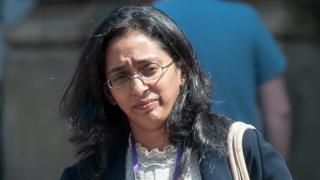 A medical tribunal has ruled that a Dundee doctor whose actions resulted in an unborn baby being decapitated during delivery is able to return to work.
Dr Vishnavy Laxman was a consultant gynaecologist at Ninewells Hospital in March 2014 when the tragedy occurred.
She wrongly chose a natural delivery over a caesarean section for the pregnant mother.
The Medical Practitioners Tribunal Service said there had not been an impairment of her fitness to practise.
It also decided it was not necessary to impose a warning on the doctor and it has revoked the current restrictions which had been put in place on her registration.
In its ruling on the facts of the case, given on Monday, the panel found that Dr Laxman's decision "set in train a course of events" which resulted in the decapitation of the premature baby "and to this extent contributed to that decapitation."
The tribunal noted: "But for Dr Vilvanathan Laxman's error of judgement in this regard, the decapitation would not have occurred."
The tribunal was told that Dr Laxman was nearing the end of a 24-hour split shift at the maternity unit when she was called to a 30-year old-woman who had been admitted to hospital while 25 weeks pregnant.
She made the decision to proceed with a vaginal delivery of the baby when the mother's cervix was dilated by no more than 4cm and the baby was in the breech position.
On Tuesday, the Medical Practitioners Tribunal Service panel sat again to determine whether Dr Laxman's fitness to practise had been impaired by reason of misconduct which could have resulted in her being struck off.
'Not reasonably foreseeable'
The tribunal said the facts found proved "did not amount to impairment of the doctor's fitness to practise".
It said her decision to proceed with a vaginal delivery "was negligent and fell below the standards ordinarily to be expected", however it did not amount to "serious misconduct".
The panel found this to be an isolated incident where the unusual circumstances, emergency situation and the doctor's genuine belief meant that the outcome "was not reasonably foreseeable".
The tribunal said it was satisfied that "even good doctors can make mistakes and that it is sometimes a consequence of the field in which they are practising that the results of their mistakes can be significant".
The panel was also satisfied that Dr Vilvanathan Laxman does not present a risk to patients and that her wrong decision "related to an isolated, single incident in an otherwise unblemished career".
The tribunal's determination concluded: "The tribunal wished to record that nothing in this determination should detract from the fact that on 16 March 2014 Dr Vilvanathan Laxman made a significant error of judgement which had serious consequences and a profound impact upon Patient A (the mother) and for which Dr Vilvanathan Laxman bears a heavy responsibility."
Dr Laxman qualified in 1999 in Chennai, India, before coming to the UK in 2004 where she carried out roles in obstetrics and gynaecology in Stirling, Kirkcaldy and Dundee.