Fast-track teacher training course given green light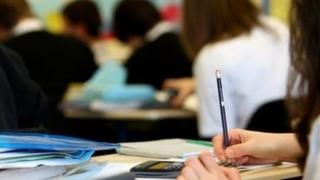 A fast-track teacher training course aimed at filling staff shortages has received official accreditation.
The course covers the two-year postgraduate diploma of education (PGDE) and teacher induction in 18 months by reducing holidays.
It aims to recruit teachers in chemistry, computing, home economics, mathematics and physics in rural areas.
The course was developed by the universities of Dundee and the Highlands and Islands.
The course with a bursary and is open to students with a 2:1 undergraduate degree and above.
The universities will work with four rural local authorities - Aberdeenshire, Argyll and Bute, Highland and Scottish Borders - to enable trainee teachers to learn in their own local area with financial support from their council.
The General Teaching Council for Scotland (GTCS) has accredited the new course model.
'Innovative programme'
Education Secretary John Swinney said: "I am delighted that GTCS has judged this new route into teaching, supported with £250,000 from the Scottish government, as meeting the high standards that are required for accreditation.
"This innovative programme will aim to broaden the range of people entering the profession in shortage subject areas and provide a challenging and rewarding opportunity to train in rural schools within areas of high deprivation."
GTCS director of education and professional learning Ellen Doherty said: "This is an intensive programme which covers the equivalent of a two-year PGDE and teacher induction in 18 months.
"It achieves this through a blended learning approach comprising on-campus face-to-face inputs, tutor and student-directed tasks, online learning and school-based experiential learning.
"Holiday periods are shorter than for conventional students, allowing learning to continue and course content to be covered."