Disabled former MP stranded after new station's lift failure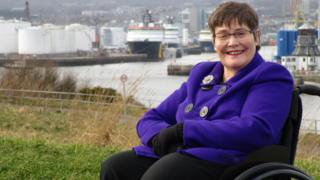 A disabled former Labour MP was unable to attend a meeting in Dundee after the only working lift in the city's new £38m railway station broke down.
Dame Anne Begg, who uses a wheelchair, said she had to take the next train back to Aberdeen after being unable to leave the platform.
She was offered the train to Leuchars and a taxi back to Dundee, but said she would have missed her meeting.
ScotRail apologised to Dame Anne for the "disruption" to her plans.
The former Aberdeen South MP told BBC Scotland: "The staff were very apologetic.
"I thought I would come off at the station in the hope that they might be able to get somebody to come and fix (the lift) more quickly.
"They said there was a two-hour call-out time.
"One of the members of staff said there were two people trying to get down in wheelchairs."
ScotRail apologised to Dame Ann on Twitter, saying that she would receive a full refund.
The company tweeted: "I'm very sorry this happened and that you've missed a meeting due to this.
"The lift developed a fault at 10:00 this morning, and engineers are due on site before 12:00 in order to repair this ASAP."
Dame Anne said: "They've apologised and said I will get my money back, but that doesn't make up for the time I've lost.
"I asked one of the members of staff about the lift I used to use up until a week ago.
"She said it was like a building site along there.
"I would have thought they might have had some kind of contingency planning to get someone out of the station."