Carnoustie captain says town is too small to host Open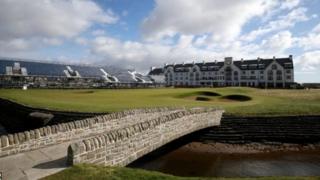 The captain of Carnoustie has told BBC Scotland that the Angus town may now be too small to host the Open Championship.
Bill Thompson says residents are facing too many restrictions and that parts of the course are being damaged.
Carnoustie, known as one of the world's most challenging links courses, will host the Open this week for the first time since 2007.
The R&A is yet to respond to Mr Thompson's comments
Changes to ticket policies, as well as a tightening of security in recent years, means both visitors and local residents are facing more restrictions than they did the last time Carnoustie hosted the Open in 2007.
Corporate machine
Captain of the club Bill Thompson believes it may now be time for the R&A to review how they can stage the Championship at traditional Open venues. 
He told the BBC's Good Morning Scotland radio programme: "There should be some kind of discussion around it.
"Roads closed. Parking - no cars allowed between 07:00 and 21:00."
"It's changing the balance...so the balance was always that you put up with an element of disruption for a number of weeks with no play on the course, and a number of weeks with less play.
"For the first time we've actually seen pieces of the golf course torn up for corporate hospitality tents. We've already lost several weeks of play, we will lose more before they come back in play.
"There are 14,000 residents here, so we're not built for 50,000 people."
Mr Thompson does admit that the championship raises the profile of courses.
"The venues will all want to have the Open because it's a badge that brings business, but at the end of the day this is a machine, a corporate machine, and as a machine, there's very little input and communication.
"We are absolutely on the periphery of this tournament, and when it goes away next week we will try to re-baseline out business back to what we do, which is look after our members and welcome any visitors."
The R&A is yet to comment on the complaints.