Fruit 'left to rot' due to labour shortages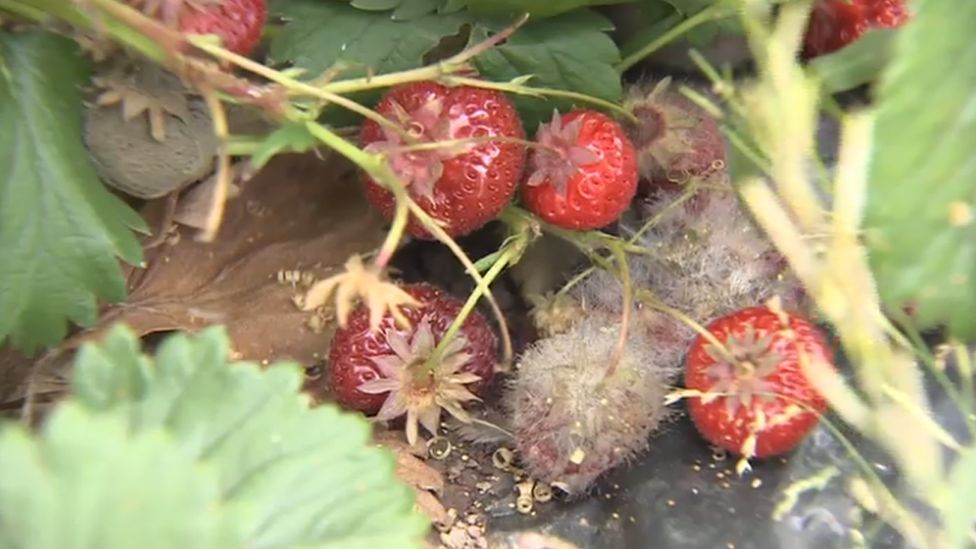 A shortage of fruit pickers combined with the summer heat wave has led to tonnes of strawberries and raspberries being left to rot, farmers have warned.
Scotland's fruit farms largely depend on seasonal workers from central and eastern Europe to pick their harvest.
But their numbers have fallen in recent years, with farmers fearing the problem will get worse after Brexit.
They want the UK government to replace the Seasonal Agricultural Workers Scheme, which was scrapped in 2014.
The scheme had historically allowed workers from Romania and Bulgaria to work on UK farms for up to six months, but was abolished after citizens of those countries were given full rights to work anywhere in the EU.
Farmers say a replacement scheme is urgently needed to ensure they can still recruit foreign workers after Brexit - with Environment Secretary Michael Gove saying in February that there was a "compelling" case for it.
The National Farmers' Union has said the replacement scheme should cover non-EU as well as EU citizens.
A study carried out for the Scottish government earlier this year estimated there were about 9,255 seasonal agricultural workers employed in Scotland in 2017, the majority on fruit farms.
The industry says this is between 10% and 20% fewer than they need, with the survey suggesting that only 40% of workers were certain they would return to Scotland in 2018.
A further 12% said they were unlikely to return, while 46% were uncertain about whether they would return.
The study concluded that Brexit was "undoubtedly" a factor in the uncertainty, with the weakening pound also meaning the wages of foreign workers had effectively declined.
The problem has been made worse by the unusually hot summer, which led to crops ripening much more quickly than usual.
Many farmers were forced to leave some of their crop to rot because they could not pick it in time - which they have described as a "disaster" for the industry.
They said the problems highlighted the need for a new Seasonal Agricultural Workers Scheme to be introduced this year.
James Porter of Angus Growers - a cooperative of 18 soft fruit growers based in Arbroath - told BBC Scotland: "By September, when most of the workers want to go home again, there will be a big shortage again for soft fruit and veg.
"There will be a big problem getting these harvested if we don't get something in place for this autumn."
Scotland's soft fruit industry is largely centred in Tayside and Fife, and is said to be worth about £115m a year - a figure that has more than doubled over the past decade, with the country building a reputation for producing some of the world's best strawberries and raspberries.
MPs from the Scottish Affairs Committee at Westminster have been visiting a Perthshire farm to hear about the problems first hand.
Its convener, the SNP MP Pete Wishart, said the issue of crops being left to rot in the fields was becoming an "increasingly big problem".
He added: "What we are beginning to see is that a lot of fruit is beginning to rot on the crop because there isn't the availability of labour to come and pick it.
"All the farmers are reporting to us that they are something between 10-20% down on the numbers they require to get the crop in.
"While we have heard encouraging noises from the UK government about the case for a new Seasonal Agricultural Workers scheme, what producers in Perthshire and across Scotland need now is urgent action, in the form of a new scheme, designed to address chronic labour shortages."
A spokesman for the Home Office said: "We recognise securing a strong agricultural workforce is crucial as we develop a new approach to farming outside the EU.
"The government has commissioned advice from the Migration Advisory Committee to better understand reliance on EU migrant workers across the wider economy and we will work closely with our food and farming industry to consider their specific needs."
The UK government also says that, up until the end of the implementation period in December 2020, employers in the agricultural and food processing sectors will be free to recruit EU citizens to fill vacancies, and those arriving to work will be able to stay in the UK afterwards.
Their rights will be protected in the same way as EU citizens already living here, the government says.
Related Internet Links
The BBC is not responsible for the content of external sites.