Former NHS Tayside chief executive 'received £300,000' pay-off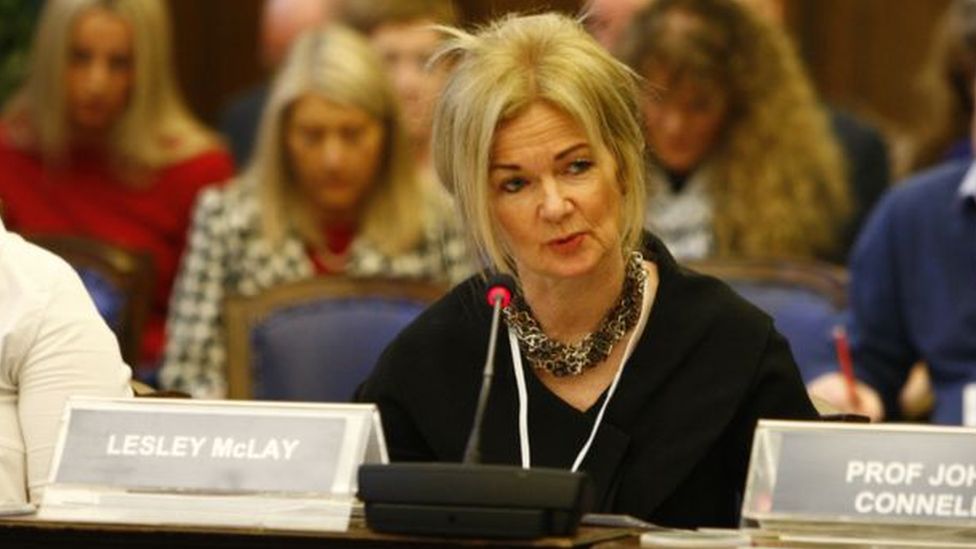 NHS Tayside's former chief executive received a final financial package of more than £300,000, an MSP has claimed.
Lesley McLay left the health board last week after going on sick leave in April, the day after being told she could no longer continue in the role.
Labour MSP Jenny Marra said the "golden handshake" was a "slap in the face" for the people of Tayside.
NHS Tayside said claims made about "any sum of money received by Ms McLay are categorically untrue".
The health board's top management team was replaced after cash from a charity endowment fund was used to pay for projects including a new IT system.
Ms Marra told BBC Scotland: "I understand today that the golden handshake that Lesley McLay has received is over £300,000.
"Quite frankly I think this is a slap in the face for everyone working in NHS Tayside and for the people of Tayside.
"She presided over financial chaos in NHS Tayside and a real lack of leadership of staff and for patient care there as well."
Ms Marra said she wanted to know "who signed off" on the payment to Ms McLay.
She said: "The audit committee in parliament, which I convene, was extremely clear with both the cabinet secretary and with NHS Tayside that there should be no golden handshake for, frankly, abysmal performance as head of that organisation."
An NHS Tayside spokeswoman said: "As with any NHS Tayside employee, Ms McLay received what she was contractually entitled to and nothing more upon leaving the organisation."
Related Internet Links
The BBC is not responsible for the content of external sites.