Church of Scotland's 'injustice' apology to Perthshire LGBT festival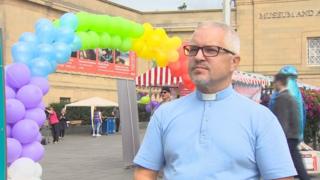 A Church of Scotland minister has told an LGBT festival in Perth that the church apologises for any "cruelty and injustice" it might have caused.
Rev Scott Burton is the first Church of Scotland minister to officially open a festival celebrating LGBT rights.
He said it was an "incredible honour" to play a key role in the first Perthshire Pride.
The event began at 13:00 in the Perth Concert Hall plaza.
The church's General Assembly endorsed a call last year to "take stock of its history of discrimination at different levels against gay people" and to apologise "individually and corporately."
Ahead of the Pride event, Mr Burton, minister of St Matthew's Church in Perth, said: "I am absolutely over the moon to be invited to open this fabulous occasion, it is an incredible honour.
"I will be taking the opportunity to apologise to members of the LGBT community if they have felt hurt, insulted and ostracised from the Church of Scotland."
Speaking to BBC Scotland at Pride, he added: "I think the church is growing in a realisation that for the LGBT community there have perhaps been times when we have got things wrong and we should rightly ask for forgiveness and apologise for that.
"That is one of our steps - reaching out to say 'you are our brothers and sisters in humanity. We love you. We want you to know God loves you and we want to walk together with you.'"
Perthshire Pride featured live music, a licensed bar, charity stalls and other entertainment.
The festival also included space for housing agencies, employers, local councillors and health staff to engage with the region's LGBT community.
In May, the Church of Scotland moved a step closer to allowing ministers to conduct same-sex marriages.
The General Assembly backed a motion which tasked a committee with drafting church law on the issue.
Its legal questions committee was asked to report back to the annual meeting of the decision-making body in 2020.