Police make co-ordinated Dundee drugs raids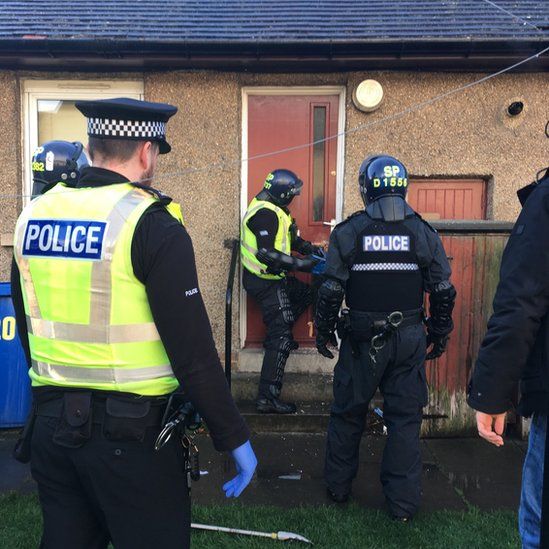 Police officers in Dundee have carried what they described as "one of the biggest targeted operations in recent years".
They said it was an intelligence-led operation aimed at cutting drug-related deaths in the city.
Operation Fundamental involved other agencies, including the city council and the Dundee Alcohol and Drugs Partnership.
Officers from the National Crime Agency also took part in the raids.
It was later revealed that 10 people had been arrested.
Ch Supt Andrew Todd, Police Scotland's divisional commander for Tayside, said: "We're acutely aware of the impact that drugs misuse has on our communities and we're committed to work alongside our partners to tackle it. We work closely with other organisations including health, social work and housing to address the wide range of issues that lead to and result from substance misuse.
"However, enforcement is also an important part and Police Scotland will continue to use intelligence to target those who are blighting our communities by dealing drugs.
"Operation Fundamental has received a considerable amount of support from Police Scotland specialist services from right across the country."
Since July, 73 people have been arrested for drug-related offences in Tayside.
Drugs seized included 14.6kg of heroin, with a potential street value of well over £1m.
Dundee Partnership chair John Alexander said: "Drug abuse is a stain on this city preventing people from making the most of their lives. It rips families apart - causing domestic violence and the neglect of children.
"With the move to target those who pedal drugs in our communities, there will be a ripple effect for all the Dundee partners who are committed to making our city a safer and healthier place for all."
Det Supt Robert Dow, the senior investigating officer for Operation Fundamental, said: "Today's operation will hopefully send out a message to drug dealers in Dundee and indeed any community that drug dealing will not be tolerated.
"Our local officers have been supported in the operation by specialist services and officers from across Scotland and we'll continue to throw our full combined strength behind tackling the scourge of drugs.
"We recognise that people in our communities feel very strongly about the problems that drug misuse and dealing cause in their areas and we'll continue to use intelligence and all at our disposal to take down the dealers and serious and organised crime gangs who are behind it."