Appeal for van driver to make contact after hit and run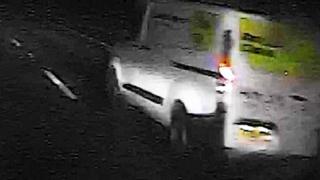 Police investigating the hit and run death of an 80-year-old woman have appealed for a van driver to come forward.
Doreen Williams died after being knocked down on the A9 in Perth.
The collision occurred between the Inveralmond and Broxden roundabouts at 02:15 on Sunday 4 November.
Officers said the driver of a white Ford Transit Custom van, with an Arnold Clark rental logo on it, could help with their inquiries.
Det Insp Ray Birnie said: "Significant police resources remain deployed on this investigation.
"We know that Doreen was struck by a vehicle having been walking along the A9 road. We know that this vehicle did not stop. Doreen died as a result of the injuries she sustained from the impact.
"We believe the driver of the vehicle pictured in the CCTV footage can assist with our investigation and anyone who recognises it is asked to come forward.
"This vehicle is a white Ford Transit Custom van. It was marked with the logos and lettering for Arnold Clark Car and Van Rental. It had a sliding rear door on the nearside."
He said they knew the van was travelling south from the Dunkeld area, and that they were "following other lines of inquiry in order to find this vehicle".