Milestone reached in £700m Tay Cities Region Deal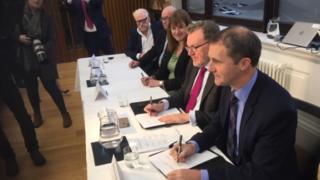 The latest stage of the £700m Tay Cities Region Deal, which hopes to create more than 6,000 new jobs, has been signed.
The Scottish and UK governments will each invest £150m, with the remainder levered from private investors.
It includes plans for the UK's first forensic science research centre and a cybersecurity centre of excellence.
A heads of terms agreement was signed in Perth by representatives of both governments and council leaders.
The Scottish government, which recently pledged £200m towards the deal, said it would set out details of the remaining £50m in the coming months.
City Region Deals are agreements between the Scottish and UK governments and local councils that are designed to bring long-term improvements to regional economies.
The deal includes a £25m UK government investment for the Advanced Plant Growth Centre and £20m for the International Barley Hub, both based at the James Hutton Institute in Invergowrie.
The centre is developing technology for the potential to cultivate crops that currently cannot be grown in Scotland.
The Scottish government will invest £25m in the region's biomedical sector to build on its "international reputation"
The deal also includes Scottish government investments of £10m for the Pitlochry Festival Theatre, and £9.5m for Dundee Airport.
Scotland's Infrastructure Secretary Michael Matheson said: "The deal will create jobs right across the region in traditional sectors, as well as in the high tech areas of biomedicine and cybersecurity.
"Across the entire deal we will be investing over £60m in innovation and high-value manufacturing."
Scottish Secretary David Mundell said the deal would offer a "transformational boost" to the region.
He said: "The real work starts now to deliver these exciting projects, so it's vital the partners and Scotland's two governments work together to realise the deal's amazing potential."
Deals are already in place for Glasgow, Aberdeen, Inverness and Highland, Stirling and Clackmannanshire and Edinburgh and south east Scotland.