'Reckless' youths smash bus windscreen with traffic cone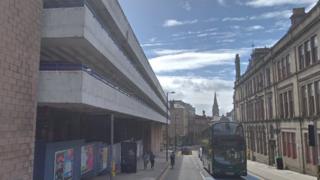 Police have condemned two youths who threw a traffic cone from the roof of a multi-storey car park, shattering a bus windscreen in Dundee.
Officers said the "reckless" act in Meadowside could have resulted in serious injury or death.
The bus was struck near the junction of Bell Street at 13:35 on Tuesday after the cone was thrown from the Wellgate Centre car park.
Police said that witnesses saw two teenage boys throwing the cone.
A police spokeswoman said: "Fortunately the bus was moving slowly. However, the windscreen was shattered and the driver showered with glass.
"Miraculously, no-one was injured.
"We cannot overstate how dangerous this reckless behaviour was.
"The cone has travelled a long distance from a great height, and if it had struck a person, they would have been very seriously injured or potentially killed."
The two boys were described as white, in their mid-teens, wearing dark clothing and either beanie hats or tightly-pulled hoods.