Campaigner Mike Haines awarded OBE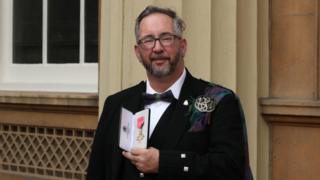 The brother of a Scottish aid worker murdered by Islamic State said people must reject voices of "hatred and division" in political life.
Mike Haines, 52, was presented with an OBE by the Duke of Cambridge at Buckingham Palace.
His brother David, who was from Perth, was beheaded by terrorists in Syria in 2014.
Mr Haines, who lives in Dundee, has since campaigned for tolerance between cultures and religions.
His Global Acts of Unity campaign promotes understanding through teaching resources for children, a young ambassadors scheme, and touring presentations by Mr Haines.
He said he had an "emotional" conversation with Prince William when receiving his honour.
Mr Haines said: "He asked about my family, how they were, which brought a few tears.
"He talked about the work I've done since my brother was murdered.
"How it is important to keep doing that work, to try and reach those students who are on the outskirts of society and try to strengthen them to make positive choices, not negative choices."
Mr Haines criticised the rise of "the politics of hatred and division" and "the nationalistic views, racist, bigoted views that are becoming even mainstream these days".
However, he said there was "an equal reaction on the side of unity, tolerance and understanding".
Mr Haines said his work was about keeping his brother's memory alive.
He said: "He would be rolling about laughing about this.
"And if I ever get to wherever he is he will take the Mickey out of me.
"He would be really proud. This is just a continuation of his work.
"This is as much his, as it is mine, as it is any member of the team or students."