Murder accused told family of missing Arbroath man to 'stay strong'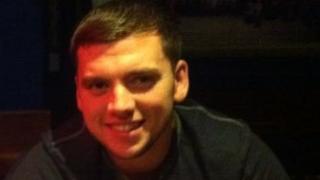 A woman accused of murdering her boyfriend urged his family to "stay strong" after he went missing, a court has heard.
Tasmin Glass was contacted by Steven Donaldson's sister on Facebook after police found a body at a nature reserve in Angus.
She replied by saying "Love you all. Please stay strong. All of us have to."
Ms Glass, 20, Steven Dickie, 24, and Callum Davidson, 24, deny attacking and murdering Mr Donaldson.
They are alleged to have assaulted him at a play park in Kirriemuir before setting him on fire at Loch Of Kinnordy Nature Reserve in June last year.
The High Court in Edinburgh heard that the night before he vanished Mr Donaldson had been "happy" at the prospect of going out to meet friends in Kirriemuir.
His sister Lori Robertson said her family later became aware of a news story about how a dead body had been found on June 7.
Ms Robertson told prosecution lawyer Ashley Edwards QC that she contacted police and told them Mr Donaldson had been going to meet a girlfriend called Tasmin Glass.
She said the police told her to obtain Ms Glass's details so they could speak to her. The court heard that the pair spoke over Facebook Messenger.
Ms Robertson then read out the message which Ms Glass sent to her. It said: "Ok. Love you you all. Please stay strong. All of us have to."
Ms Robertson was giving evidence on the first day of the murder trial.
She told the court how she had moved in with her parents in Arbroath in January 2018 after her marriage had broken down.
She said her brother, who worked offshore, also lived with his parents and that she had met Ms Glass when she visited the family at their home.
Social worker Ms Robertson said: "We were a close family."
Ms Robertson told the court that her brother earned a "good wage" and owned property in Arbroath and Aberdeen.
She said Ms Glass told her via Facebook that Mr Donaldson did not turn up for a meeting she had arranged to have with him.
'Gone in a huff'
She added: "They had been arguing recently. He didn't turn up. She assumed that he had changed his mind or had gone off in a huff."
The three accused are alleged to have assaulted Mr Donaldson at the Peter Pan Play Park in Kirriemuir by repeatedly striking him with "unknown instruments".
The prosecution argue that Mr Donaldson was then "incapacitated" before being taken to Loch of Kinnordy nature reserve car park.
Once at the park, the Crown claims that Mr Donaldson was struck on the head and body with a knife, baseball bat, or similar instruments.
The accused are then alleged to have set fire to Mr Donaldson and to his car.
Mr Dickie and Mr Davidson also face a number of other charges including assaults and behaving in a threatening or abusive manner.
The three accused deny all the charges. The trial continues.