Falkirk Grahamston Railway Station reopens after 'man with knife' incident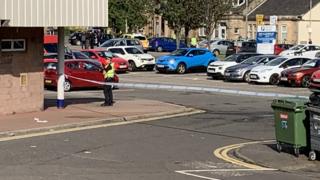 Falkirk Grahamston Railway Station has reopened after reports of a man being seen with a knife.
Police were called to the station at 08:50, with officers placed at entrance points.
Officers were seen leaving the scene shortly after 13:30 and police said the 21-year-old man was taken to hospital.
The station had been in lockdown as specialist officers spoke to the man in a bid to resolve the stand-off.
Services between Edinburgh to Glasgow via Cumbernauld and Edinburgh to Dunblane were affected by the incident.
Scotrail said arrangements were being made to reinstate services, but delays and cancellations may still be experienced.