Dundee doctor admits importing controlled drugs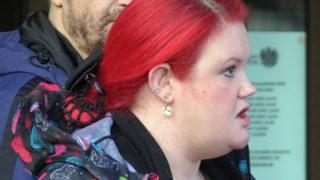 A Dundee doctor who was cleared in 2017 of killing a friend by giving her a cocktail of painkillers has admitted importing controlled drugs.
Katy McAllister, 33, attempted to have diazepam, oxycodone, Temazepam, and morphine delivered to her home.
McAllister will be sentenced on 11 October at Dundee Sheriff Court.
She was found not guilty at the High Court in Edinburgh in 2017 of culpable homicide, but admitted supplying diazepam and Temazepam to two people.
In the latest case, McAllister admitted four charges at Dundee Sheriff Court of importing controlled drugs over a three-month period in 2017.
Prosecutor Saima Rasheed told the court: "In respect of this matter, a narrative was prepared, but there's a dispute over the value of the drugs."
Ms Rasheed asked for the case to be continued and defence agent Gary McIlvarey asked for "at least a week" to allow lawyers to resolve the issue.
Not guilty pleas to a further 10 drug-related charges were accepted by prosecutors.
'Anxious' over tattoo
In 2017, McAllister was acquitted of causing the death of Louise McGowan at Voodoo Tattoo in Dundee in May 2015.
Prosecutors alleged she had administered the drugs to Mrs McGowan but judge Graham Buchanan QC said they had failed to provide evidence of culpable homicide.
She did, however, plead guilty to supplying a fellow medic with diazepam pills, and tablets, including Temazepam, to another man.
The High Court heard that Mrs McGowan, 27, had felt "anxious" about getting a tattoo.
She died a day after taking the drugs, after suffering a cardiac arrest.
During the High Court trial, paramedic Robbie Gray told jurors that McAllister phoned for an ambulance after Mrs McGowan's husband contacted her to say his wife was ill.
They then found Mrs McGowan was unresponsive and had no pulse.
An electrocardiogram to test Mrs McGowan's heart showed she had little activity in the organ.
McAllister and staff began to administer CPR and gave Mrs McGowan adrenaline.
However, they could not resuscitate her.
The court heard that McAllister told doctors her friend had taken alcohol, ibuprofen and co-codamol the previous day, and may have also taken diazepam to calm her nerves.