Neomi Smith: Murder trial hears of 'scene of carnage' in Brechin flat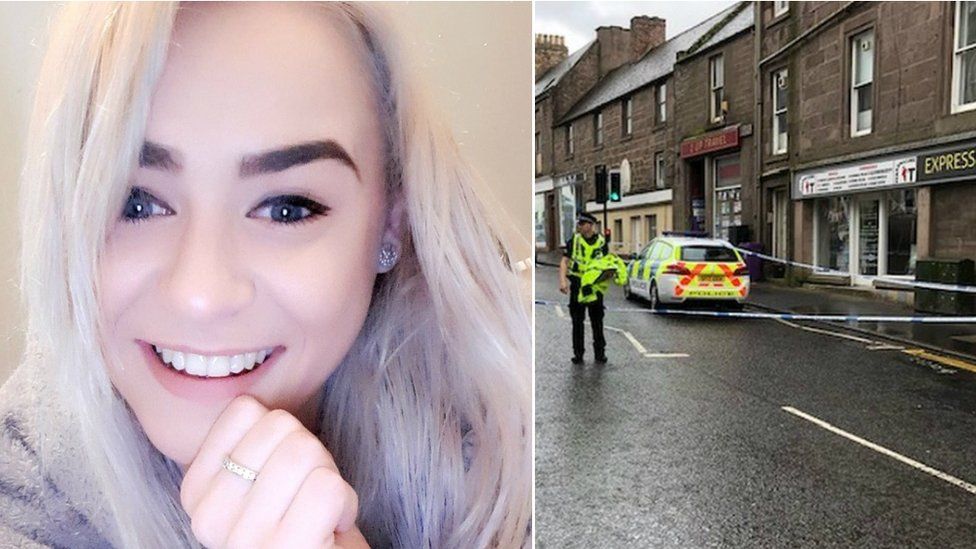 A woman was found in her flat amid a "scene of carnage" the night she was allegedly murdered by her boyfriend, a trial has heard.
Keith Rizzo denies killing 23-year-old Neomi Smith - who was originally from Aberdeen - at her flat in Brechin on 9 June last year.
A neighbour told the High Court in Glasgow how he tried to save her life.
Stephen Alexander said Mr Rizzo, 23, had come to his door for help "in a state of panic and distress".
Witness Mr Alexander recalled hearing a "rather disturbing" noise coming from Miss Smith's home upstairs at about midnight.
The court heard he was just about to call police when Mr Rizzo turned up at his door.
The witness said: "He was worried about Neomi. There was no response from her."
Mr Alexander dialled 999 as both men went upstairs.
Mr Alexander explained: "I saw a scene of carnage. There was glass and debris all over the kitchen.
"It looked as though a battle had taken place. There was bottles of sauce, fruit and vegetables amongst the broken glass.
"There was a knife at Neomi's left leg. She was lying on her front between the fridge and the tumble dryer."
Mr Alexander checked for a pulse, but could not detect one. As he spoke to the 999 operator, he then began carrying out CPR on Miss Smith.
He said: "He (Mr Rizzo) was asking me was I getting a response. He just seemed to me to be in a total panic."
Prosecutor Duncan McPhie asked: "Did he say what had happened?"
Mr Alexander said: "He informed me that Neomi had been in the kitchen arguing with someone while he was in the shower."
Earlier the court head that Miss Smith was too scared to leave her boyfriend.
Her friend Kayleigh Cameron earlier told the court her "upset" friend claimed Mr Rizzo had been "belittling" her.
Miss Cameron said: "She confided in me that he had abused her - that he had hit her before.
"This was news to me. She said she had been pushed up against a wall and knocked unconscious by him.
"She was scared and wanted to go home, but if she left him, he would hit her again as he had not hesitated to do it before."
Miss Cameron went on to walk with Miss Smith to her flat in the early hours.
Mr McPhie: "Did you ask her to do something?"
The witness replied: "I asked her if she was going to be safe. She replied 'yes'.
"She told me that she would lock the door and would keep her key in, so he could not use his to gain access."
The trial, before Lady Rae, continues.