Sophie Parkinson: 'Lovely' schoolgirl looked up ways to end life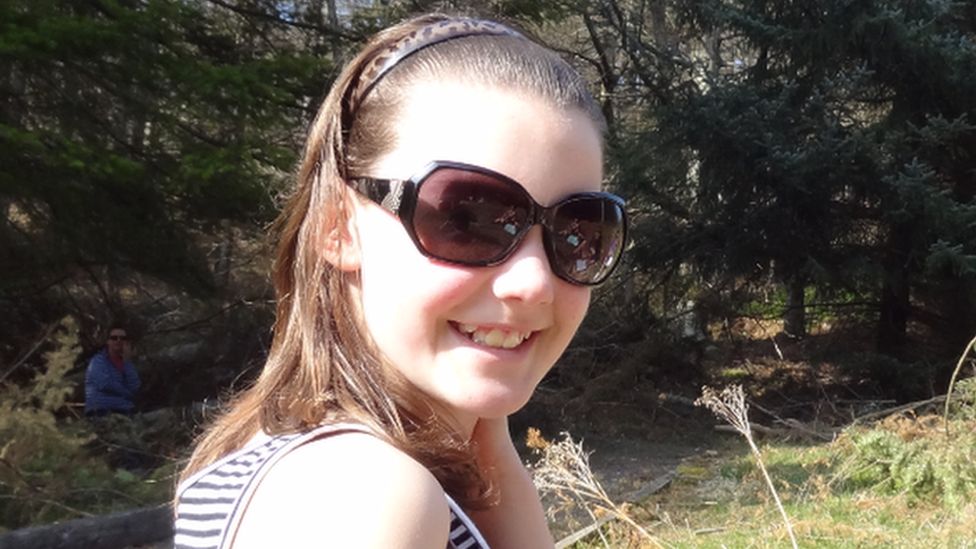 The mother of a 13-year-old schoolgirl who took her own life has told a fatal accident inquiry she believes she would still be alive if health professionals had done more to help.
Sophie Parkinson died at her family home in Liff, outside Dundee, in 2014.
Her mother, Ruth Moss, told the first day of the fatal accident inquiry that Sophie had looked up ways to end her life online.
The inquiry is being held remotely due to coronavirus restrictions.
The High School of Dundee pupil died in March 2014.
Mrs Moss told the inquiry: "She was a really lovely girl, really kind, it's hard, she died.
"It's true to say in the last few months of her life Sophie was exceptionally difficult to manage.
"She wasn't getting any better. I wanted her to get better."
Sophie's mother, who now lives in Edinburgh, explained: "I could speak to CAMHS (Child and Adolescent Mental Health Services) but nothing was done.
"It's fine to listen but you have to act. CAMHS was ambivalent.
"I think that's the problem with the whole of Sophie's case. Unless you dive deeper into the reality, it's fine."
Richard Pugh, for NHS Tayside, told the FAI that two "safety plans" had been created during Sophie's care.
However Mrs Moss said she was not involved in drawing them up, and that there was no "collaborative process".
Mr Pugh suggested that Sophie's case was taken "seriously".
Mrs Moss said: "The problem I have is with the content and quality of the interactions.
"In spite of Sophie deteriorating and being high risk there was minimal input in a quality way. The high school was very very worried about Sophie.
"I am convinced nobody in CAMHS thought Sophie would take her own life. I do not see that theme."
Speaking of Sophie's iPad and phone, Mrs Moss said: "She had looked up ways to kill herself.
"She said what she was going to do."
'Taken her more seriously'
Mrs Moss told Steven Quither for the Crown: "They should have taken her more seriously.
"With a normal standard of care Sophie would still be alive today."
David Adams, for Mrs Moss, asked what her main issues were, and she said the safety and risk assessment of her daughter.
Mrs Moss said communication between herself and CAMHS was "very flawed".
Asked to describe her daughter, she told Mr Adams: "Sophie was really kind, she was very sensitive, very clever, and she was beautiful.
"Unfortunately towards the end of her life she became very difficult to manage. But deep down she was a great girl."
The inquiry, being held before Sheriff Lorna Drummond QC, continues.
If you or someone you know needs support for issues about emotional distress, these organisations may be able to help.