Coronavirus: Pupils test positive in Perthshire, Paisley and Coatbridge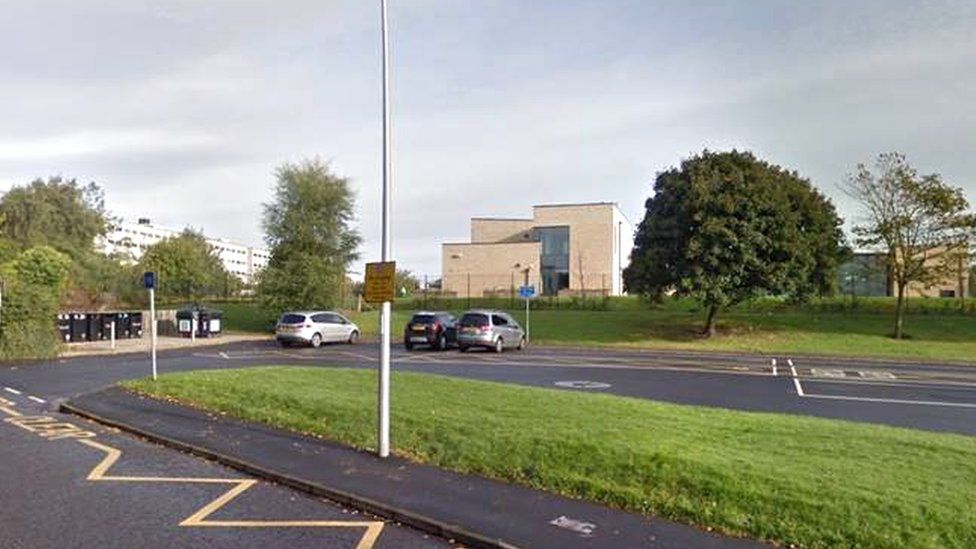 A fourth pupil at a school in Coatbridge has tested positive for coronavirus.
The student from St Ambrose High had already been identified as a contact and is part of a cluster in North Lanarkshire and North East Glasgow.
Three pupils at Newhill Primary in Blairgowrie, Oakbank Primary in Perth and Todholm Primary in Paisley are also confirmed as having the virus.
Parents have been contacted and made aware of cases at their schools.
The new Coatbridge case comes as NHS Tayside confirmed that there had been a single case of Covid-19 connected to Kingspark School in Dundee.
A member of staff at Kinmylies Primary School in Inverness has also tested positive for the virus.
NHS Lanarkshire said three other pupils from St Ambrose High in Coatbridge had already tested positive, along with one from St Andrew's High in Coatbridge and one from Caldervale High in Airdrie.
There are a further three linked cases, who are not staff or pupils, and 14 cases in north-east Glasgow.
On Monday, NHS Greater Glasgow confirmed that the cases in their areas were linked to house parties.
The issue of school outbreaks has prompted Scotland's largest teaching union to warn about the dangers of large groups, including parents, meeting at school gates.
The Educational Institute of Scotland (EIS) has written to the first minister urging her to "do more on school safety".
However, at her coronavirus briefing, Nicola Sturgeon stressed that although the incidence of coronavirus cases among pupils would inevitably rise, the recent clusters had originated outside schools.
She said: "These are considered at this stage to be community clusters with an impact on schools, rather than school-based clusters. It is not thought that the virus has transmitted within the schools."
The first minister said that mobile testing units had been established at the Time Capsule car park in Coatbridge and at Ravenscraig in Motherwell to assist Test and Protect in controlling the outbreak.
The Lanarkshire and Glasgow cluster was linked to indoor social events and Ms Sturgeon said that not sticking to the rules around household gatherings was "presenting one of our biggest risks of outbreaks occurring at this time".
She said: "Evidence suggests if the virus is present at a house party, then everyone at the party is at considerable risk of infection and they can spread infection more widely."
NHS Tayside and Perth and Kinross Council said there was no current evidence of transmission of the virus within either school and both remained open.
It said it had identified 41 close contacts of the positive cases, which includes some school pupils and staff. 
In Renfrewshire, parents and carers of children at Todholm primary were contacted in a letter from NHS Greater Glasgow and Clyde (NHSGGC).
It said: "There is currently no evidence to suggest that there is transmission occurring within the school itself".
Test and Protect are contacting any individuals who have been in close contact with the pupil and advising them to self-isolate at home.
A joint statement from NHS Greater Glasgow and Clyde and NHS Lanarkshire said the two boards were working together on the outbreak.
A total of 14 linked Covid cases have been identified in north-east Glasgow in addition to eight North Lanarkshire cases.
Many of those were secondary school pupils and both health boards said that evidence of social gatherings with no social distancing was a factor in their investigation.
In its letter to Nicola Sturgeon, the EIS said there were "clear inconsistencies" in Covid-19 safety policy within schools and outside.
General Secretary Larry Flanagan raised concerns about people meeting outside schools in large groups.
He said: "This includes parents gathering at school gates and young people meeting friends without following the guidance on physical distancing.
"People are running the risk of spreading the virus to each other, their families and their loved ones."
He added: "May I ask why the Scottish government thinks that it is acceptable that inside schools these rules don't apply, where up to 33 pupils may be in a closed confined area, ie a classroom, with as many different households as there are people?"
'It's impossible to social distance in school'
Dylan, 16, is in fifth year at a secondary school in West Lothian. He returned to school last week.
He said: "I wasn't thinking about social distancing because I knew if I thought about it I would just get myself worried over something I have no control over. So I was mostly just worried about the mental shift from being in my house for seven months to being in school every day and the work shift from barely doing any work to the fast pace of highers.
"There's 1,400 pupils and every 50 minutes we're all moving around the school. I took those pictures because the hall actually came to a stop because there were so many people. And then there's also classrooms. You're sitting shoulder to shoulder with other people for 50 minutes.
"It's not possible to social distance. There's nowhere else they can put us. They can't put classes outside in the rain so we are forced to sit together like that.
He added: "The teachers are trying to distance from us, but there really is no way in my school we could actually be distanced unless we had some kind of half class. It is just quite strange how we are being told we should social distance when anybody who knows a high school set-up knows that's not possible."
Responding to the union's concerns during the Scottish government briefing, Ms Sturgeon said: "I have seen myself on social media pictures of scenes outside schools or inside schools that look as if they are too crowded and where we do see that we will contact the directors of education to make sure schools are being supported to comply with the guidance."
She said the issue of face coverings was under ongoing review.
"We have tried to make sure we have robust mitigations in place but balancing that with the need to give young people as normal a schooling experience as possible," she said.
She said the government would consider asking older pupils to wear them and support would be given to teachers and young people who wanted to do that.