WNO tribute after death of Sir Charles Mackerras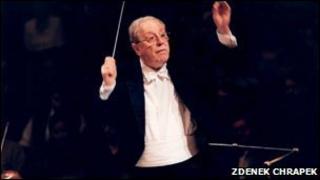 Welsh National Opera has paid tribute to its former musical director, the conductor Sir Charles Mackerras, who has died aged 84.
The Australian, who led the opening concert at the Sydney Opera House, died from cancer in London on Wednesday.
WNO said he conducted "many great performances" from 1950, and was musical director from 1987 to 1992.
The company said it was "deeply saddened" by Sir Charles' death and has sent condolences to his family.
WNO chief executive and artistic director John Fisher said: "Everyone at WNO is deeply saddened by the sad news of the death of Sir Charles Mackerras.
"Sir Charles had been music director of the company from 1987 until 1992 and has since been conductor emeritus until the present day.
"He conducted countless magnificent performances with the company, the last of which were concert performances of Mozart's Mitridate, re di Ponto in May and June last year.
"We send our condolences to his family."
Sir Charles was due to conduct two of the Proms in this summer's season, which begins on Friday.
Roger Wright, director of the BBC Proms and Radio 3 controller, said: "Sir Charles was a great conductor and his loss will be deeply felt by musicians and audiences alike.
"The range and quality of his work was extraordinary.
"He was due to conduct two Proms this summer and it is sad to think of a Proms season without his remarkable musicianship, good humour and charm."
Mr Wright said a Prom would be dedicated to Sir Charles during the season.
Robert Rattray, an agent, also paid tribute to the conductor, telling the BBC: "He had an extraordinary ability to encourage orchestras to share his vast knowledge and enthusiasm."
Sir Charles, who lived in London after settling in the UK, was born in New York to Australian parents.
He was known as an authority on Czech music, particularly Janáček, and on Mozart.
Last year he won two awards at the BBC Music Magazine Awards for classical recording excellence, and returned to WNO to conduct the special performance of Mozart's Mitridate, re di Ponto, which was performed only in Birmingham and Cardiff.