'14 years' to reform Welsh grant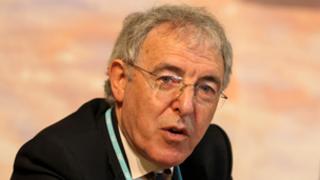 It could take 14 years to reform the way Wales is funded, says the chair of an inquiry into the issue.
Holtham Commission chair Gerald Holtham said adjustments to Scotland's funding might need to be made first.
In that case, he said, change could take "one hell of a long time".
Mr Holtham told the assembly finance commitee the UK government might not give Wales an extra £300m to £400m a year until they have taken "at least as much from Scotland".
Mr Holtham also said the UK government was "nonsensical" to suggest reform of Welsh funding should be dependent on whether such reform is consistent with deficit reduction.
The commission has argued that the current Barnett formula by which Welsh funding is allocated leaves Wales underfunded by more than £300m a year.
It has recommended the replacement of that population-based formula with one based on need.
Asked by Plaid Cymru AM Helen Mary Jones how long it would take to close the funding gap, Mr Holtham said that the Welsh adjustment of "a few hundred million" could be done "very quickly".
But he added: "The problem is, would we have a uniform adjustment procedure for all of the UK because the Scottish adjustment would have to take one hell of a long time - I would think 10 years minimum.
"At a time of fiscal stringency you can't even start for three or four years and then it's going to take 10 years on top of that.
"So it does depend really on how uniform the government insists that adjustment should be.
"I think they would be reasonably within their rights to say they're not going to give Wales the £300m to £400m until they've extracted at least as much from Scotland."
Mr Holtham added that there was "no science" behind his estimate, and that the time reform would take was a matter for negotiation between the respective governments.
The Holtham Commission chair also said whether Wales' funding formula was reformed had "no bearing" on efforts to reduce the UK's deficit, and it was "nonsensical" for the UK government to suggest otherwise.
He said the Welsh funding formula change his commission recommended was an exercise in relative allocation of money.
Mr Holtham said: "All this is telling you is how to divide it up... (the UK government) can do whatever they like with the overall total.
"This says, you know, Scotland should get a bit less, Wales should get a bit more and Ireland is probably not very far away from where it's supposed to be.
"It can be true for a big grant or a small grant so as far as as we can see the statement by the government is nonsensical - this has no bearing at all on deficit reduction one way or the other."
Taxation
The commission's most recent report said the assembly government should have the power to vary income tax levels to become more accountable for its spending.
Part of a Treasury block grant should be replaced with revenue raised from Welsh taxpayers.
The commission wants ministers to be able to vary the basic and higher rates of income tax by up to 3p in the pound.
Business and Budget Minister Jane Hutt is meeting finance ministers of the devolved nations and Chief Secretary to the Treasury Danny Alexander on Thursday.
Plaid Cymru's chief economic advisor Eurfyl ap Gwilym called on those ministers to draw up a clear plan to reform the Barnett funding formula.
Dr ap Gwilym said the responsibility was on the UK government to act to replace the current funding system and that there was "no excuse" for not taking taking action.