Dog fighting is 'massive' problem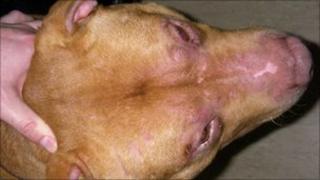 The RSPCA inspector who helped convict a major figure in illegal dog fighting has said the issue is a "massive" problem.
David Braddon, 47, from Caerphilly, was jailed on Thursday for possessing fighting dogs, and cruelty charges.
He was caught in an undercover operation by the RSPCA and police following a tip-off.
"Dog fighting is an issue for everybody," said Ian Briggs, of the RSPCA's special operations unit.
He added: "Nationally, it's a massive issue. Wales is no different to anywhere else. It's all interlinked as one huge problem."
Ch Insp Briggs described Braddon's conviction as a "great coup" for the animal charity and police, and was based on good quality information.
But he warned there were others like Braddon waiting to take his place and encourage others, often young men in street gangs, into their world.
He said: "People see these guys and they want to emulate them.
"There are many other men like him who perpetuate dog fighting and keep their interest going. People see this and then drift into it."
Braddon was featured in several illegal magazines produced by the organised dog fighting fraternity.
When his home was raided in March 2009, police and officers from the RSPCA's special operations unit found five pit bull terrier-type dogs living in his garage, one of which had 42 scars.
There were also weighing scales and a bottle of the penicillin Duplocillin, which is used to treat injured animals.
Braddon was jailed for six months by Caerphilly magistrates, ordered to pay £1,000 costs and banned from keeping animals for 10 years.
Ch Insp Briggs said men such as Braddon represented "the top of the pyramid of the dog fighting problem".
He added: "Without information coming in from the public, we would really struggle."
Double wired
He said that the raid on Braddon's home in Llanbradach, Caerphilly county, found a sophisticated set up aimed at running a fitness and training regime for the dogs kept there.
This included two treadmills for the animals as well as separate kennelling to keep the animals apart at all times.
Ch Insp Briggs added: "They were, in effect, working fighting dogs."