Girl, 9, from Wales, dies in rafting accident in Turkey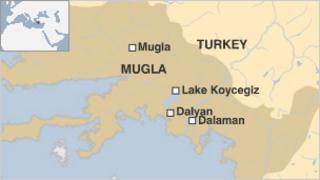 A nine-year-old girl from south Wales has died in a rafting accident while on holiday in Turkey.
It happened on Wednesday at Lake Koygeyiz, in the Mugla region near the Aegean coast of southern Turkey.
The girl who died has been named as Cerys Potter, of Llancarfan, Vale of Glamorgan, described as a "lovely little girl" by a school governor.
Around a dozen people were on the boat when it is thought it struck a rock.
The accident is under investigation by the Turkish authorities.
British consular staff are assisting the family, the Foreign Office said.
BBC News reporter Jonathan Head, in Istanbul, said rafting was a popular activity with tourists in the area of the Dalaman river.
"A lot of people do this - they take inflatable rafts and go down the river for around 10 miles, going through a number of rapids. Hundreds of people do it every day.
"In this case the boat struck a rock and they were thrown into the water. There were at least 12 people on board the boat, although that is not unusual, including guides."
He said the girl's body was found shortly afterwards, between two rocks.
A 12-year-old boy in the group found his way onto another rock and was being treated for minor injuries, he told BBC Radio Wales.
He said: "But at this stage nobody knows whether there was anything that went wrong with the raft itself."
He said the normal procedure was for people to be given safety instructions and issued with life jackets and helmets.
"Around 2.5m Britons come to Turkey every year and this area around Fetia and Dalaman is one of the biggest attractions for British tourists. There are a huge number of resorts there.
'Shocking news'
"Although they go for the beach and for the sunshine, going inland a little bit up into the mountains that rise behind the coast to do this white water rafting is very common and very popular.
"Some of the tour agencies do restrict children to only over-12 but some don't and in other countries children as young as four are taken."
Jill Davies, chairman of the governors, at Llancarfan primary school, said: "Everyone is completely devastated at this shocking news, it has affected the complete school community both past and present pupils and all the staff.
"She was such a lovely little girl and will be sadly missed. Our hearts and sympathy go out to the family."
Gordon Kemp, leader of Vale of Glamorgan council, said the Potters were a well-known family in the village, very involved in village life.
"The Vale will offer every assistance it can to the family, if necessary, but certainly to the other pupils in the school," he said.
"Obviously for a primary school something like this is devastating.
"We'll give whatever help is necessary. We'll offer counselling if necessary."