Severely beaten terrier recovers after ordeal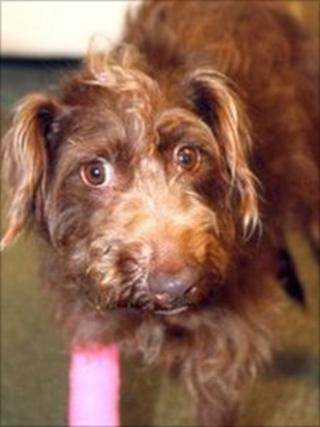 A cross-breed terrier, beaten so badly by her owner that vets gave her less than a 50% chance of pulling through, has made a complete physical recovery, and is enjoying life with her new owners.
Last November in Cefn Fforest, Blackwood, Holly, as she was christened by the vets who treated her, was kicked and punched so viciously that she broke three ribs, lost a number of teeth and suffered severe internal injuries.
In the opinion of the vets, her attack would almost certainly have been fatal, had it not been for the actions of a man who who stepped in to end the beating
Graham Blow at the Bridge Veterinary Group in Caerphilly county helped perform emergency surgery, and even feared that she may have suffered brain damage.
He told BBC Wales in December: "Dogs, even little dogs, are remarkably tough, so the ferocity which would have been needed to inflict such injuries on her is terrifying.
"Someone with that level of anger needs to be caught, because the same attack on a human could easily, even probably, have killed them."
Miles Simmonds, 21, from Blackwood, was later given a 24 month community punishment order at Caerphilly Magistrates Court, and was banned from keeping animals for 10 years.
After several operations, Holly was released into the care of a dog behaviour specialist at the RSPCA's Animal Rescue Centre in Bath.
At the time it was thought that she may prove too traumatised to ever be rehomed.
However she was eventually paired with Maryanne Parsons, who has a long record of caring for rescued dogs with psychological damage.
"As soon as we saw her wagging her tail, after everything she'd been through, we knew we had to have her," explained Mrs Parsons.
"They warned us it wasn't going to be easy to rehabilitate her, and in fairness it hasn't always been plain sailing.
"In the first week she'd bitten the paper boy and my brother, but we've persevered with the training, and as she feels more secure she's become so affectionate, and the aggression has almost vanished."
Holly has been renamed Willow by her new family, and these days enjoys long runs along the Wiltshire canal where she now lives on a houseboat.
Mrs Parsons says she is the "star of the show, so clever and always on the look-out for attention".
Despite some wariness around men, it seems as though the worst of her trauma is behind her.