House fire deaths tally falls in Wales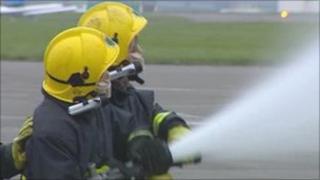 The number of deaths in fires in Wales continues to fall, according to assembly government figures.
There were 19 fatalities from fires up to the end of 2008, compared with 26 the year before, although the number of non-fatal casualties was the same, 648.
The number of actual fires also decreased by 9% over the same period to just over 7,000.
The number of hoax calls to Wales' three fire services saw a drop of 4% on 2007 to 1,460 in 2008.
The statistics showed that no smoke alarm was fitted in 38% of the 2,300 fires in dwellings in Wales.
They also show that in in 2008, most accidental fires were caused by misuse of equipment or appliances or faulty fuel supplies.
Social Justice and Local Government Minister Carl Sargeant welcomed the figures.
He said: "These figures reflect the hard work, professionalism and bravery of our firefighters.
'Hoax calls'
"I must pay tribute to the Welsh fire and rescue services who work tirelessly to protect the people of Wales.
"Although falling, the number of malicious false calls is still unacceptable.
"Hoax calls waste the precious time of our emergency services operators, tie up vital resources and risk the lives of people who urgently need help."