North-south Wales air route contract on offer again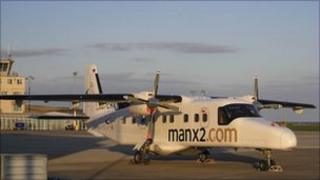 Air operators are being asked to come forward with bids to operate the north-south Wales air route for the next four years.
The route was taken over on a short term basis by Manx2 in May, after the collapse of carrier Highland Airways.
The winner of the new contract will take over the service between Anglesey and Cardiff airport in January 2011.
The assembly government says it is also examining whether it can increase the number of passenger flights.
"This tender process is the start of the search for an airline to provide this incredibly popular service on a long-term basis for the next four years," said Deputy First Minister, Ieuan Wyn Jones.
"To date over 40,000 passengers have used the service and it forms a key part of our National Transport Plan, helping to reduce journey times and improve business links between north and south."
The service between north and south Wales began in May 2007, but the original operator Highland Airways went into administration in March this year.
Extra flights
The airline Manx2 and its partners FLM Aviation were awarded a seven month contract to run the service in the meantime.
The assembly government said it will be exploring whether there is scope to enhance the current service by adding an additional mid-day return journey on Mondays and Fridays only, when demand is at its highest.
However, the route has faced political opposition, with the Welsh Liberal Democrats calling in January for the service to be completely scrapped.
The party's Welsh leader, Kirsty Williams AM said the it was "both economically and environmentally unsustainable".
However, the assembly government has insisted that the flight route is an "essential link" between north and south Wales.