Wales' health minister questions English NHS reform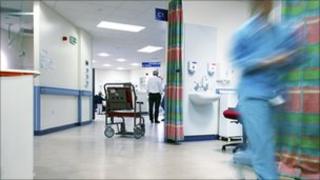 The Health Minister, Edwina Hart, has questioned the UK Government's proposed reforms of the NHS in England.
Ms Hart told the Politics Show Wales the "stresses and strains" of the NHS in England would "soon start to show".
Asked whether there were plans to match the UK government's promise to increase health spending over and above inflation, Ms Hart said: "If you think that protecting budgets is actually about the privatisation of the market place in England then I'm afraid you're in a different world to me."
Proposals for a major shake-up of the NHS in England were announced earlier this week.
Under the plans GPs would be given greater responsibility for spending much of the budget, hospitals would be set free from central control and an independent board would allow the service to escape political meddling.
Ms Hart also claimed that cuts of around £2bn needed to plug a deficit in the NHS in Wales by 2014-15 could be made without affecting front-line services.
"Everybody assumes front-line service is about a bed," she said.
"Everything almost in the NHS is front line.
"In terms of wards, there will be reductions in wards because treatment changes.
"Treatment that used to be done in district general hospital is now sometimes done in primary care.
"So the world changes in medicine quite fast and the images you've got of health now might not be what health is in the future."
Ring-fenced
The UK Government has said that the NHS budget in England would be ring-fenced from cuts. Ms Hart would not give that commitment to the Welsh health budget:
"We've got to take corporate responsibility for the financial arrangements in Wales in the government and we are a coalition government. We'd all like as cabinet ministers extra money but I believe in corporate responsibility and it will be up to the cabinet to decide how we deal with the issues around budgets in future".
Earlier this week, the assembly government admitted that the NHS in Wales had been underfunded compared with the health service in England for the last six years.
The five-year strategic plan for the health service's future said that growth in cash funding had been one-third lower than that for NHS England.
The assembly government said the gap was a legacy of underfunding of Wales as a whole. The Liberal Democrats called it "shocking" while the Conservatives blamed ministerial management.
Responding, Ms Hart said: "We've actually published a document that outlines the issues within the NHS, within the five year plan. And I have to say, I've always been making it clear since I've been health minister and Andrew Davies used to make it clear as finance minister, that you have to look at health budgets realistically. You have to look at the level of real growth that were in them, and you also have to then look at efficiency savings.
"Really what we're talking about is what we have to do and what we've been doing for quiet a long time."
See the interview in full on the Politics Show Wales, BBC One Wales, 18 July from 1200 BST.