Prince William policing bill row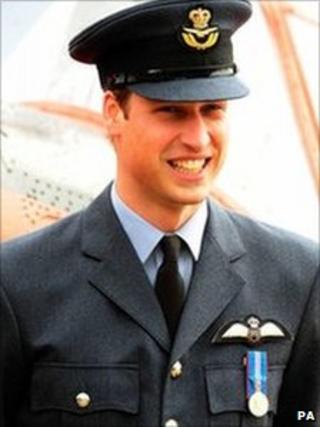 The taxpayers of north Wales should not have to pay to protect Prince William if he chooses to live off an RAF base, says a former head of royal protection.
Dai Davies made the comments after a report in the Sunday Times that the policing bill could cost up to £1.4m if the prince lives off the Anglesey base.
A Clarence House spokesman said: "It is not unusual for an officer of William's age and rank to live off base for reasons of privacy."
North Wales Police are due to comment.
Dai Davies, a former head of Scotland Yard's royal protection squad, said: "I don't think the ratepayers of north Wales should be paying it, I think it should come out of central funds allocated to protecting the royals which are currently in excess of £50m.
"There clearly are difficulties in protecting what is a remote cottage wherever that is, and it adds an extra strain on those whose duties whoever it is to protect the royal.
"He is much safer in the RAF camp where he can be protected by RAF police and those trained to do it.
"It does add a burden to others but that's what we have when we have a monarchy.
"He is considered a high risk and the police have to protect him."
Mr Davies said there should be a debate about which of the 21 royals should be entitled to taxpayer-funded protection.
He said: "In William's case, it is necessary."
On Tuesday, the Metropolitan (Met) Police chief Paul Stephenson suggested the budget for protecting VIPs and members of the Royal Family may be cut.
He said the cost of providing armed police bodyguards faced close scrutiny.
The Met has been caught in a long-running dispute with the government over how much it receives for so-called dedicated security posts each year.
In March MPs were told that about £4m which would have been used for policing went into a VIP protection budget.