Village 'cut off' fears over bypass works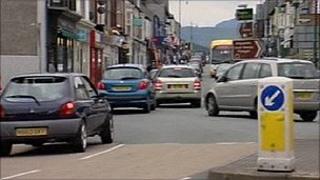 Businesses in a Gwynedd village fear work on a £34.4m bypass could cut them off as a "dead end" for three months.
Constructors began work to re-route the A487 past Porthmadog in January.
But businesses in neighbouring Tremadog say they have now been told the current road could be completely shut from September to December.
The Welsh Assembly Government said the contractors were consulting with local people but the closure option would avoid the peak tourism months.
Opponents claim it could threaten up to 100 jobs in the village.
Stuart Hallard, who runs the Golden Fleece Inn, in Tremadog's village square said he only discovered the proposals to close the road in the last couple of days.
"The village square will be turned into a dead end," he warned.
"This is a thriving community - but if this goes ahead it will take away all our passing trade."
Mr Hallard said he met with road constructors on Wednesday, and said he was told that a move to close a stretch of the original A487 between 6 September and 6 December was favoured as "the quickest solution" to this stage of the bypass work.
He said the other option was a series of temporary closures and traffic management, lasting over seven months.
"Logistically, the closure would be a nightmare if you are a delivery driver," he added.
'Popular option'
"And diversions will mean that what would normally be a £2 or £3 taxi ride from Porthmadog in the evening will now be about £10.
"Who is going to pay that to come to Tremadog for the night?"
Mr Hallard said businesses in the village were now banding together to oppose a move to close the current road for the autumn, with a petition being drawn up.
However, the final decision on whether the road closure will go ahead lies with the Trunk Roads Agency, and the Welsh Assembly Government.
A spokesperson for the assembly government said: "The contractor is currently consulting local residents and businesses, as well as emergency services, transport providers and councillors, about the possible closure of a section of A487 between Porthmadog and Tremadog.
"If this closure was deemed to be the most popular option available, the road would be closed for a period of three months and an alternative route via the A498 would be used.
"The closure would, if agreed, run from September to December to avoid the peak tourist season."