Super-school plan for 'Valleywood' site at Llanilid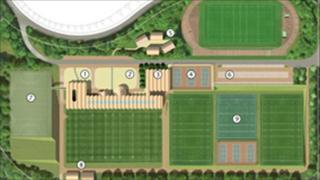 A new super-school for children aged between four and 18 could be built on the site of the "Valleywood" film studio complex.
Developers are submitting plans for permission to build the £30m school and rugby academy on a 30-acre site in Llanilid, Rhondda Cynon Taf.
It is hoped 750 pupils will attend the co-educational independent St David's Academy, some as boarders.
Around 2,000 homes could also be built on the site next to the film studios.
The planned school, which would be set up by St David's Academy Ltd but later be run by a charity, would be a predominantly day school but with boarding faculties for up to 100 pupils.
Day fees would be in the region of £2,900 per term for the lower school and from £4,250 for the upper school.
However, as a charity, it would offer bursaries and scholarships to children, primarily within the day school catchment area such as the south Wales valleys, who might not otherwise be able to afford the fees.
The school's founders say pupils will experience an education "unique to Wales".
They say it would focus on a curriculum that "nurtures creativity, enterprise and self-discovery", along with academic subjects.
It would support the Welsh and the international baccalaureates alongside GCSE and A-level qualifications.
The founders also say the school would have state-of-the-art rugby facilities, including an indoor multi-media rugby barn, which would be open to the wider rugby community.
Cardiff-born David Brook, the man behind the proposal, said he hoped the academy would be a "landmark school that other countries have".
"We are building a school of which Wales can be proud, a school that reflects its history and will determine its future, and an environment where our children can grow into adults capable of making a meaningful and valuable contribution to society," he added.
If planning permission is granted, construction of the school is expected to start towards the end of 2010 with the first students attending from September 2012.
Earlier this month plans for 2,000 new homes on land next to the Dragon International Film Studios complex, dubbed Valleywood, went on show.
They include a health centre, library, recreation facilities and neighbourhood shops.
The planning application is for the remainder of the studios' site between Pencoed and Llantrisant, which is a former opencast mine.