Concern over town lorry short cut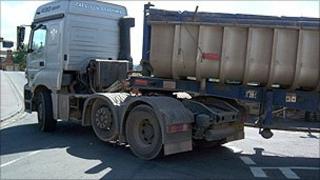 Residents say they are concerned about lorries using a road through Usk in Monmouthshire as a short cut.
People in Usk are worried about noise and pollution levels caused by the vehicles on the A472.
Monmouth MP David Davies said the fines for freight firms which flout a 7.5 tonnes weight limit were not large enough to be a deterrent.
Gwent Police, Monmouthshire council and the town council say they are trying to find a solution to the problem.
Usk residents and businesses say they are also worried heavy goods vehicles could damage the historic bridge as drivers try to negotiate bends.
And they claim it can be dangerous for people to simply to walk on the pavement in Bridge Street.
Usk resident Thelma Morgan said: "It is unsafe to walk down the pavements now.
"People with young children won't walk down the street any more. Our businesses are suffering because people are afraid to walk down the pavements."
Mr Davies, who worked as a lorry driver for five years, said he had written to UK Transport Minister Theresa Villiers calling for the fines to be increased for transport firms which flout weight restriction laws.
He said: "Lorries are coming up the dual carriageway and going through Usk instead of going round Abergavenny.
"It's really easy to spot. You will see these great big articulated lorries driving through - people have been caught with wing mirrors.
"The police have set up road blocks and they have found people breaking the law but the fine is only £30.
"The combination of a low fine and the irregularity of checks means that that a lot of companies are happy for their drivers to take the risk."
In September 2008, the town's historic stone bridge was damaged by a lorry just days after damage from an earlier lorry strike had been repaired.
About 100 people attended a public meeting held on Friday by Usk Town Council about the discussions that have been held with the county council and Gwent Police.
Speaking ahead of it, Tony Kear, chairman of Usk Town Council's traffic and HGV committee, said it was to inform people about issues involving the lorries and air pollution and "the actions that have been agreed to date to alleviate the problems as much as possible whilst taking into consideration deliveries that must be made within or adjacent to the town".
"We're pleased with the recent progress made," he added.
A spokesman for Monmouthshire council said they were invited to the meeting.
"We are aware of the issues surrounding lorries driving though Usk. We continue to work closely with the community and partners to find solutions to these issues."