'No benefit' in merger between south Wales universities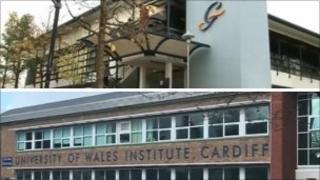 The University of Wales Institute, Cardiff (Uwic) has rebuffed a possible merger with the University of Glamorgan, BBC Wales has learned.
University of Glamorgan governors have written to Education Minister Leighton Andrews supporting the union.
But it has been rebuffed by Uwic governors, who claim any merger would provide "no benefit".
Mr Andrews has set out plans to restructure higher education in Wales, with fewer colleges.
The University of Glamorgan told Mr Andrews that they want to create an academic institution which would be "of a size and scale to compete with its cross-border neighbours".
Staff at Uwic have been told that the university intends to remain as "an autonomous institution, working interdependently with others where there is mutual benefit in so doing".
Talks to merge the universities were firmly on the agenda in 2003, but the deal faltered.
Governors at Uwic then held discussions with University of Wales, Newport two years later with a view to merging in September 2006, but again the plans fell through.
Uwic chiefs now see the future in building partnerships rather than mergers to make more efficient use of resources.
The college concludes that in measuring achievement, it has "perhaps uniquely in Wales, continued positive progress in all four major league tables".
Staff were told in a newsletter: "Uwic intends to play a full role in regional planning in south east Wales.
"Uwic has identified a number of opportunities to build partnerships and optimise the use of resources.
"Some of these opportunities could involve the University of Glamorgan with or without the involvement of other institutions. A constructive dialogue on these matters would be welcomed."
The letter from Uwic also states that a prediction in May 2005 by those responsible for funding higher education in Wales that institutions in south east Wales would suffer a "spiral of decline" has not happened.
Rather than decline, said Uwic, the last five years had been a period of strong performance, enabled to a large extent by the absence of distraction caused by merger discussions.
During that period, the college said it had reached key strategic objectives and continued positive progress in all four major league tables.
But a spokesperson for the University of Glamorgan said its letter to the education minister re-endorsed its view that a merger was the way forward.
"Glamorgan believes that the creation of a larger, modern combined university in south east Wales of the size and scale to compete with its cross-border neighbours would be hugely beneficial to the staff and students of both institutions and to the wider communities which they serve," said the spokesperson.
In a statement to BBC Wales, Uwic said it reiterated the points which had been made in its letter to staff.
Last month, the Welsh Assembly Government cabinet agreed a higher education action plan for Wales.
The education minister told AMs that it would mean "significantly fewer" higher education institutions by 2013.
Mr Andrews said Wales has been "dogged for years by many institutions which are too small to cut a mark internationally, too small to withstand and respond to the growing pressure of international competition".