Fears over impact on Welsh broadcasting of S4C 'cut'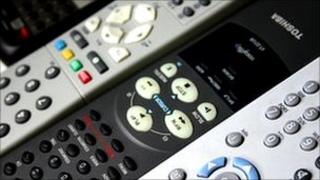 Concerns have been raised about the future of broadcasting in Wales if plans to cut the budget of S4C by almost a quarter are carried out.
Institute of Welsh Affairs chair Geraint Talfan Davies said the move would have "far-reaching" consequences.
The Department for Culture, Media and Sport (DCMS) would cut S4C's £100m grant by 6% a year for the next four years, said the Media Guardian website.
S4C said it was unaware of any specific proposals.
The DCMS is trying to save money as part of the UK Government's spending cuts.
Mr Talfan Davies, a former controller of BBC Wales, said: "I would be extremely concerned because if a cut on this level were to happen, it would be effectively a third blow in a real triple whammy for Welsh broadcasting."
He said there had already been cuts at ITV Wales and BBC Wales, and the reported cuts at S4C would lead to a "real sea change in the nature of public service broadcasting in Wales".
"By the end of that process, if this story is confirmed, then Wales will have lost, on my reckoning, somewhere between £40m and £50m per annum compared to where we might have expected to be," he said.
He added: "If cuts on this scale happen to S4C, we're not talking about tinkering around the edges, the consequences are really far reaching for the whole of the Welsh broadcasting industry.
"They're far reaching, first of all, for the management of S4C and the nature of the service it offers.
"Second, I think, for the Welsh language, S4C has been crucial I suppose in giving the language what confidence it has.
"Thirdly, as we've already heard, the consequences would be dire for the independent production sector and, fourthly, for the creative industries generally in Wales."
Mr Talfan Davies said S4C was already facing "very significant challenges because its audience has actually been falling".
"If the budget change is at this level, there's going to have to be a fundamental rethink about the nature of the service," he added.
The Media Guardian reported that news of the cuts came from "sources close to the channel and to the DCMS".
'Less income'
The DCMS declined to comment, saying that decisions on departmental spending would be set out in the Comprehensive Spending Review, due in the autumn.
Iestyn Garlick, chief executive of TAC which represents independent producers working in Wales, said: "S4C will of course expect the same output but, in the end, you can't have the same output for so much less money.
"Already, companies are doing 25% more work for 25% less income. In the end, the string is going to get so short, something is going to break."
S4C's budget has traditionally been tied to the Retail Price Index.
The channel received a grant of £101.647m from the DCMS for 2010.