TV 'must reflect UK communities', says BBC TV head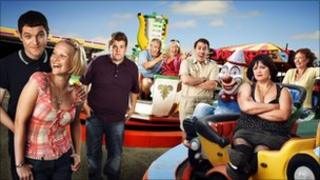 Audiences want a better reflection of their communities, the BBC's director of television has said.
Jana Bennett said her aim was for the corporation's network programmes to better depict life across the UK using the success of Gavin and Stacey to illustrate what audiences enjoyed.
Resorting to stereotypes was not good enough, she added.
£39m has been invested in network shows in Wales in the last 12 months, compared to £25m in the previous year.
Building work has also started on a new drama production centre in Cardiff Bay where Doctor Who, Casualty, The Sarah Jane Adventures and Pobol y Cwm will be produced, along, with other new programmes in the future.
In a speech which she gave to business leaders in Cardiff, Ms Bennett gave details of her ambition to better reflect and celebrate the UK's communities, cultures and landscapes on its network programmes.
"There has been a tendency for broadcasters to think that by basing shows in fictional cities and nameless towns - in other words, nowhere in particular - they will avoid alienating the majority of the audience because they do not live there," she said.
"I don't believe this is true, and it seems neither does our audience."
She said the success of programmes like Gavin and Stacey, which is set in Barry Island in the Vale of Glamorgan and Billericay, in Essex, shows that people like to see and hear characters and places they can relate to.
"When you look at how the programme performs in the area it is set, you see some very interesting results - Gavin and Stacey for example got a 10% greater share of the audience in Wales than the UK average," she said.
"Our audience is telling us clearly that reflecting their communities is very important.
"Recent research also made it clear that accurate portrayal is about more than just hearing accents or seeing stereotypical images of choirs, coal and sheep in reference to Wales, the troubles in Northern Ireland, or 'shooting up or shooting grouse' in Scotland."
In October 2008 Ms Bennett outlined plans for the BBC to double investment in network programmes in Wales by 2016.
She said the corporation is "well on its way to meeting its target" and that in the last 12 months the corporation invested £39m compared to £25m the previous year.
It comes as research commissioned by the BBC shows that in Wales, due to the large number of network productions now coming from the nation, expectations have been raised, and there's pride and a sense of ownership over the programmes.
Welsh audiences want content that reflects a contemporary Wales, the research found.
BBC network programmes that are set in Wales that are currently on air or in production include the third series of Being Human, the new drama The Indian Doctor starring Sanjeev Bhaskar, which tells the story of an Indian doctor living in the south Wales valleys in the 1960s, and Wild Wales, presented by Iolo Williams.
But Ms Bennett said there is still more work to be done.
"We've moved productions now we must sharpen our focus on the creative benefit of reflecting the communities from across the UK," she added.