Luxury camping - or 'glamping' - takes off in Wales
By Kevin Leonard
BBC Wales News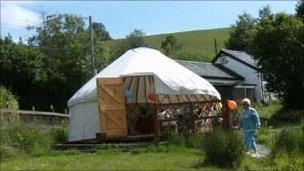 Wales is cashing in on a growing demand from campers who want a taste of the outdoors combined with a few home comforts.
The number of sites offering luxury camping holidays in yurts and tipis has grown from just a handful five years ago to a few dozen now, by some estimates.
While a few sites offer such accommodation alongside traditional camping, many are small scale and devoted only to this form of "glamping", or comfortable camping.
Out go lumpy airbeds and soggy sleeping bags, and in are wooden floors, wood burning stoves and cotton mattresses.
Jonathan Knight, founder of the Cool Camping series of guidebooks and co-author of Cool Camping Wales, said Wales was helping lead the way in this type of holiday.
He said factors such as the scenery and the proximity to a ready market in south-east England and the Midlands had helped Wales embrace the concept.
He said: "I think it's hugely important and will become more important for what Wales is offering.
"What Wales has got that perhaps other parts of England don't have is all this fantastic countryside. There's so much more space.
"Perhaps the fact that it can get pretty cold, especially on the coastal areas, means glamping gives people a chance to still do it.
"A lot of these yurts and tipis are built on raised wooden platforms and come with futon bedding or other types of bed - some even come with proper big double beds.
"It's like what you might find in a hotel or B&B - it's a warmer, drier camping experience."
Many of the Welsh sites offering this type of holiday are smallholdings run by husband and wife teams.
They often feature just a couple of tipis or yurts in a rural location, but are catering for a growing demand.
Peter Cape, who owns Broome Retreat with his his wife near Llanrhaeadr ym Mochnant, Powys, offers two yurts for holidays.
Comments on his website guestbook offer a clue to the attractions of such a break.
One guest wrote: "The facilities, lifestyle and atmosphere serve to banish everyday worries and allow you to experience true relaxation."
But a bit of decent PR had also helped change the whole image of camping, said Mr Cape.
"I think press attention has had an impact. The glamping image made a real difference," he said.
"It wasn't something that just hippies did. Now people know what a yurt is, so that phrase being coined [glamping] made a difference and has made it more mainstream."
He said comfortable camping was attracting people for many reasons, but there were very specific factors this year.
"We opened for this season [2010] about six or seven weeks later than normal because of building work but we've taken more bookings in the shorter season than in the whole of last year," he said.
"I know when the volcanic ash cloud started affecting flights, that weekend our booking rate increased dramatically.
"I would imagine the recession has also affected the number of people taking foreign holidays."
Another husband and wife team own Trellyn Woodland Campsite at Abercastle in Pembrokeshire.
Kevin Bird has two tipis and two yurts and, most importantly in his opinion, camp fires.
"I think camp fires are one of the biggest growth areas where people want to go back to camping as it was when they were kids," he said.
"People are looking for something a bit more comfortable but offering these fundamental things."
He said there was often more of a personal touch associated with the small yurt and tipi sites.
"We're small scale here. It's small, it's intimate. We do our best to involve campers in our activities," he said.
He added: "It's also going on the groundswell of being a bit kinder and gentler to the planet."
Fran Wintle, who owns Larkhill Tipis in Carmarthenshire with her husband, said they had been staggered by how popular their tipis and yurts had become.
She said they were fully booked for the summer and most weekends throughout the year, although the tipis were taken down out of season.
They also offer a variation, known as an alachigh, which is similar to a yurt but used by nomads in northern Iran.
"I would say the majority of people who come here are professionals - a lot of doctors," she said.
"Also people involved in filming - people who have been filming here and then book to stay. There's a whole range of people - working class, middle class, families and couples."
Moving into this line of business seven years ago is a decision that Ms Wintle does not regret.
"Wales is a growing tourist area," she added.
Related Internet Links
The BBC is not responsible for the content of external sites.