Concern at lack of rugby head injury reporting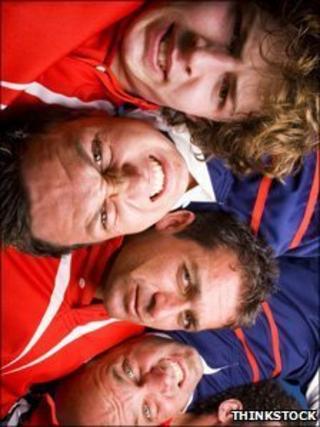 Head injuries among rugby players are going under reported, according to a BBC investigation.
The International Rugby Board (IRB) and Welsh Rugby Union (WRU) expressed concern with BBC Wales' Week In Week Out's findings on injury risks.
It questioned 75 lower league players and found only 20% of concussion incidents were reported to officials.
"Everybody has a duty of care to look after themselves," said WRU chairman David Pickering.
The rules from rugby union's governing body instructs players to tell club officials if they suffer symptoms of concussion.
These include headaches, memory loss, and an inability to concentrate. If concussion is diagnosed they should not play for three weeks.
But the current affairs programme, which looked at impact injuries and the growing physique of modern players, found that does not always happen.
In a snapshot survey, it questioned 75 players from six clubs in Wales and asked if they had suffered concussion during last season and what they had done about it.
There were 91 suspected concussion incidents but only 14 were reported by players - the equivalent of just one in five.
The programme also highlights an absence of recorded data for injuries suffered by Welsh players, except for those where an insurance compensation claim is anticipated.
Llantrisant RFC player Sean Gilbertson told the programme he regularly suffers concussions and does not report them.
He estimates he suffered around eight concussions last season.
"My wife keeps on at me to stop playing and she's annoyed with me coming home with bad heads," he said.
"Sometimes, the next day I'm struggling as well and on the Monday I'm feeling a bit groggy, so I am worried.
"But the rugby player mentality is they get injured, that's part of the game and they carry on playing."
The IRB recently set up a working party to advise on best practice relating to concussion and intend to begin an education programme.
'Worries me'
But Steve Griffiths, the IRB's head of technical services, admitted the findings were a concern.
"That's very concerning that players are not being honest with themselves because they're damaging themselves," he told the programme.
"But you've got to take into consideration these are people making decisions for themselves and they should be making that decision on an informed basis and at the moment I suspect they're not."
WRU chairman David Pickering added: "Of course it worries me in terms of they should be fully aware of their own responsibilities.
"Everybody has a duty of care to look after themselves and if there are issues of concussion then the right process should take place and we've got the guidelines for doing that.
"But, of course, you've got to accept that at community level you must take responsibility for your actions as well."
Week In Week Out BBC One Wales 2235 BST Tuesday 27 July and will be available on BBC iPlayer.